A study found that the average cart abandonment rate across all eCommerce industries is nearly 69.82%, meaning only three in ten shoppers will buy.
Baymard Institute reported that sellers lose $260 billion of recoverable money due to checkout flows and design flaws.
1. Offering too many cross-sell options at checkout triggers choice paralysis
Shoppers don't always know what they want, so product recommendations can go a long way to helping you boost sales.
Giving shoppers options could help them make quicker and more informed buying decisions. Ironically, the more choices they have, the less likely they'll buy.
And it's based on buyer psychology.
Hick's law says the time it takes to decide depends on the number of available choices. Too many options could become a cognitive burden, triggering choice paralysis and making the sales journey unnecessarily longer.
Offer only a small number of cross-selling products, limiting it to between two and five items.
The rule of three suggests that a trio of events or words grouped into threes are more appealing or effective than other numbers. Also, three is the smallest number needed to create a pattern.
Three is the magic number, but four is not bad either.
Bliss cross-sells multiple products but displays them in a set of fours, making their options less overwhelming. In addition, shoppers can use the navigation arrow to reveal more options.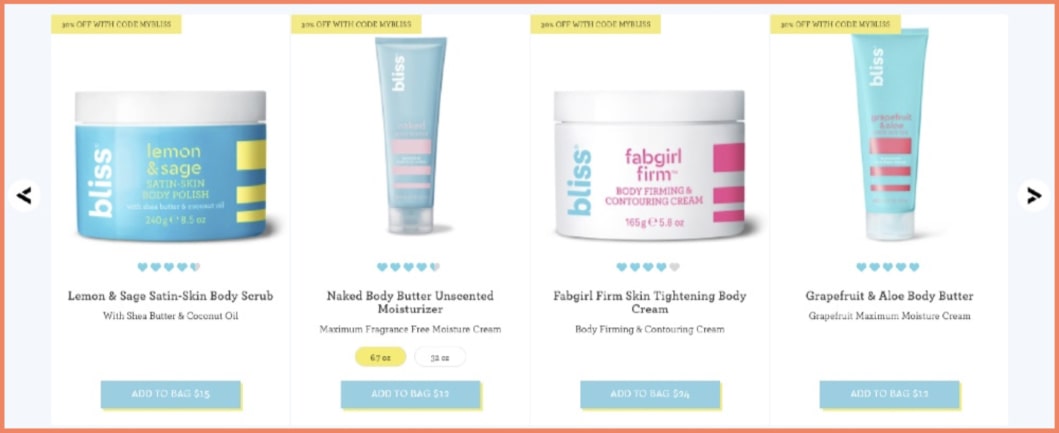 2. Not flaunting your sales activity (if it's happening)
Humans love to follow the crowd. It is a natural, evolutionary trait.
The desire to belong is so strong that people often conform to a group consensus even when it's against their judgment.
People conform to group behavior for various reasons, including:
Need to win approval
The belief that everyone cannot be wrong on the same thing at the same time
Fear of missing out (FOMO)
Showing live notifications of sales as they happen can have a bandwagon effect. Shoppers see it as social validation and are more open to buying.

Live sales notifications play on shoppers' fear of missing out and reinforce social validation to persuade them to complete their purchases. Rafflepress believes that live sales alerts can boost sales on eCommerce websites by up to 15 percent.
However, fake sales alerts are a colossal mistake. Shoppers can see through the charade, and you won't want them to see you as untrustworthy.
3. Offering cross-sell offers outside the 10% to 50% range
Cross-selling products that are above customers' budget is a huge mistake.
The price of the product they add to the cart can give you an easy clue of how much they're willing to spend. Suggesting products within their budget will stand a chance to convert, and we recommend products between 10% to 50% of the main product's price.
Anything higher than that price range is tempting fate.
Of course, recommending a $100 product to a shopper that added a $10 item to the cart is a big ask. It doesn't even make sense. It's one of the easiest ways to lose the sale.
Several top eCommerce brands have made this mistake, and you shouldn't. Macy's probably understands how ineffective the practice is, so it often recommends products that have comparable prices with the items buyers added to the cart.
For instance, the brand suggested clothes with prices ranging between $33.99 to $64.75 when I added a $53.70 Charter Club Petite Gingham-Print Midi Dress to my cart.

Below is the product I added to my cart.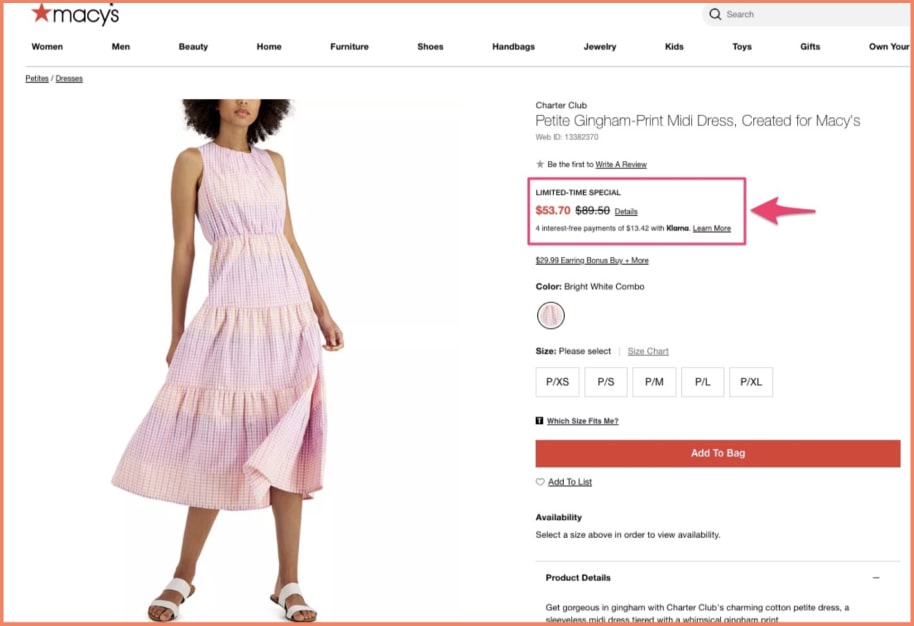 You'd notice Macy's cross-sold dresses that are within the price range of the main item. Here's another example from The Iconic. They cross-sell items I might like right on the checkout notification popup; you'll notice that their prices remain within the product's 10% to 50% range.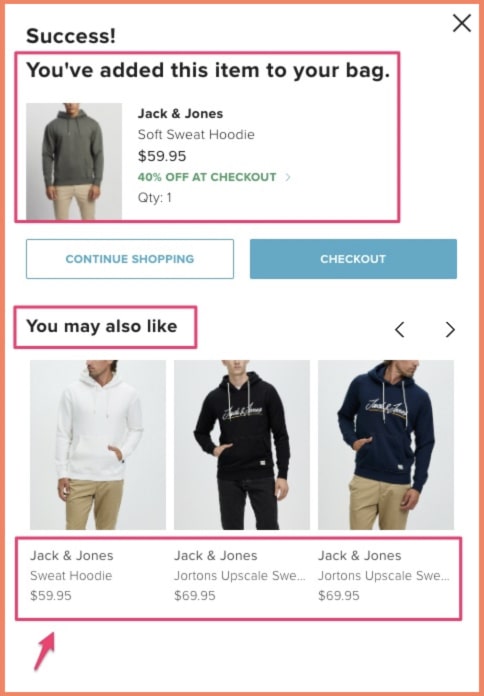 This website has products that sell for significantly higher but won't show them on this page, knowing the conversions won't be high.
4. Ignoring assisted shopping (where possible)
Customers could get distracted, confused, or need a little nudge when completing their checkout.
So, you don't want to leave them feeling stranded at those critical moments. Here comes assisted eCommerce. Enabling assisted shopping throughout the buying journey streamlines customer experience, making shopping more convenient and fun.
Make a human customer service agent available or use a chatbot to assist shoppers in real time and provide support without interrupting the experience.
Also, virtual assistants can guide them through their buying journey and provide hyper-personalized product recommendations.
LuckyVitamin uses assisted shopping to make sure buyers complete their purchases. The health and wellness brand provides helplines right on its uncluttered checkout page.
Shoppers can get instant help through these channels:
Phone call
Chatbot
FAQ for self-assisted customer support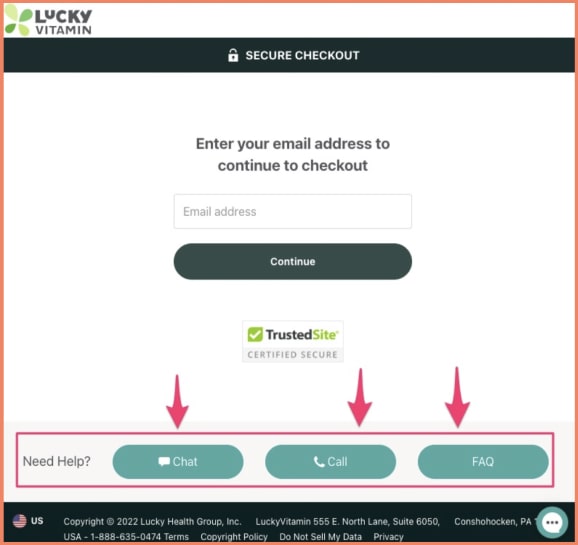 During Alibaba's 2019 Global shopping festival, Tmall Genie's voice shopping feature generated over a million sales, thus highlighting the importance of assisted commerce.
5. Violating tax laws when selling to international buyers
Violating tax regulations is a crime, and you won't want a face-off with the law.
Make sure you comply with local tax laws. Some countries will require you to pay taxes on the products you ship into the country, including customs fees.
So even if you offer free shipping worldwide, ensure you take care of any taxes or let buyers know they'll pay charges the product might incur from arriving at the country's port.
Belroy ensured shoppers from Brazil knew of the customs charge that comes with using express shipping to Brazil.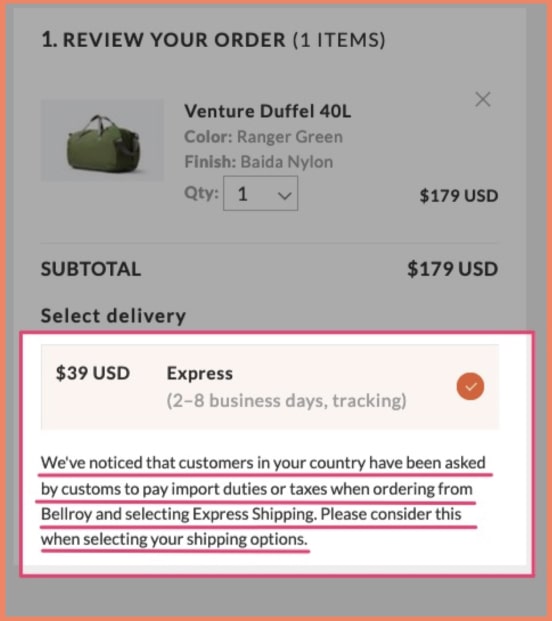 Not disclosing your product as a sale might get your buyer on the wrong side of the law, making you lose brand loyalty with them and reducing your chance of repeat sales.
Taxes and tariffs can significantly add to the product costs. Set clear expectations by detailing these additional fees and the final price payable by the customer. Consider using third-party fulfillment services to reduce shipping costs and delivery time and improve operating efficiency.
If you want to take this point seriously, hire an experienced eCommerce lawyer to help you take care of any international commerce complexities.
6. Forcing the local language on all site visitors from a country
Not all 30 million tourists who visit Paris speak French. However, that doesn't mean they won't find services in a language they understand.
In the same fashion, users love eCommerce sites that they can read and understand, and this is not only about the English language.
Make your site design responsive to buyers so they can change languages if the default site language is different from the one they understand. A multilingual website means more customers, and more customers equal higher conversion.
Since most eCommerce businesses are buying into this, you must step up your game and build your site to reach broader markets by making it available in several languages.
iHerb caters to its international buyers—the eCommerce brand supports up to 17 languages, allowing customers to shop in their local languages.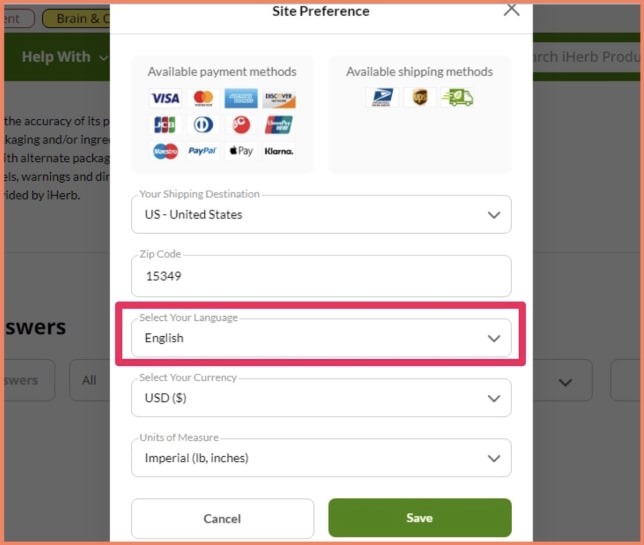 7. Not using the scarcity principle to drive urgency
The fear of missing out (FOMO) is one of the primary drivers of impulse buys. But what's interesting is that consumers like impulse buying.
In one study, 72% of respondents said impulse buying improved their mood.
So, you're doing a good thing when you use a message that triggers buyers to act on the spot.
Using phrases like "3 items left" and "5 people are looking at this item" helps them get decisive. Copies like that also remind the buyer that the product might be off the shelf soon, so they must make a decision now.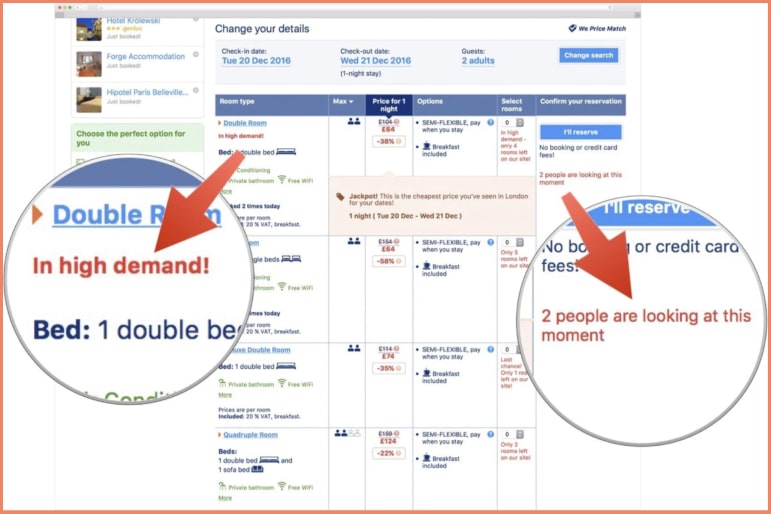 See the "Update," in this example below, warning buyers that the product is selling out fast.
And then, there's the time pressure created with the countdown timer, plus the "6 items left" notification on the timer to send a clear message to the buyer to either buy now or miss out.
The mix of a discount offer and time pressure would make it hard for shoppers to ignore the deal.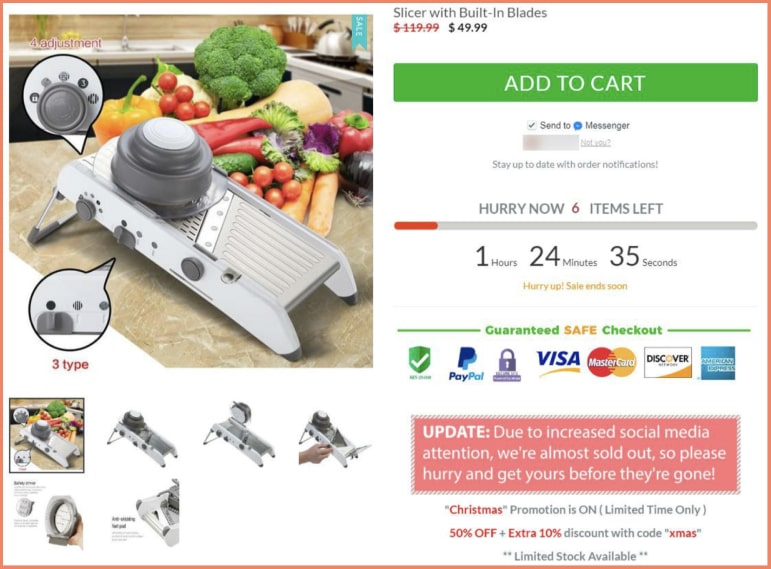 However, please don't abuse this tactic or lie about your sales performance or product availability.
And don't take it too far. If your product doesn't have this sales activity, don't display it. Employ other legitimate tactics. Why? You can lose buyer trust and brand equity and get yourself in trouble with the law.
For example, the online ticket seller, Viagogo, attracted the attention of the Australian Competition and Consumer Commission (ACCC) when it falsified its marketing message by abusing this tactic.

Explore more: Top 20 checkout mistakes eCommerce businesses unknowingly make