Most eCommerce businesses like yours have asked the question – what is the secret to creating a high-converting eCommerce homepage – at some point or the other. 
The answer is a simple one – by offering what your visitors are looking for.
If you look at it from a visitor's perspective, your homepage conversions are dependent on your visitors taking a desired course of action. This will only happen when you're providing them the products and/or services they're seeking. 
Striking a balance between meeting your eCommerce business goals and your customers' needs is of course easier said than done. But in the era of eCommerce personalization, taking a customer-focused approach is your safest bet. It's also the one thing that's going to boost your eCommerce homepage conversion rate and better revenues in the long run. 
Time is also of essence here. Once a visitor lands on your homepage, 15 seconds is all you have to convince them that – yes, your homepage is the holy grail of what their heart desires. So the old tricks are not going to cut it. Not optimizing your homepage to cater to their needs will kill conversions eventually. One sure-shot way to prevent your conversion rate from dropping is to create a high-converting eCommerce homepage.
It's time to stop thinking like a company and start thinking like a customer.
Cracking the Code to a High-Converting eCommerce Homepage
Enough has already been said about how your homepage can be a critical real estate for your business. There are also several blog posts, such as this one by HubSpot, which talk about the essential things to include on your homepage. 
It's true – homepages serve multiple purposes. Communicating a brand identity, leading visitors to the desired product and/or service pages, sharing company information, attracting visitors with engaging content and visual elements and CTAs, the list goes on.
But none of these will impact your homepage conversion rate unless they provide tangible value to the end-user. To tie all of these to the final user benefit, you'll need to get into the minds of your visitors. 
Hey, you'll love this: The Psychology of an Online Shopper
Here's food for thought – all customers, irrespective of what they're looking for, have these four essential questions in mind when they're landing on your homepage. 
1. Am I in the right place?
Your visitors may have arrived through organic search or an ad, but they would first take a quick look around to determine if yours looks right or not. All of this happens really quickly. Content, visuals, interface, all of these combined create an impact on the visitor's mind. 
2. Do you have what I'm looking for?
Once they're convinced, your website may be a suitable place to look further, they will search specifically for the product and/or service they're looking for. If it's easily discoverable, they'll move on to the next stage.
3. Is there someone I can talk to?
Most visitors like to be helped when they're in a new place. Just finding things on a website won't cut it. Your visitors need confirmation. They'll need to cross-check information, clear their doubts, and reconfirm facts, preferably with a live person. A human touch always adds to the experience.
4. Can I trust you?
Lastly, when they're satisfied and have already made up their minds, they will do a final check to ensure if your website is trustworthy enough for them to spend their hard-earned money on. When it comes to finances, your visitors will always be looking for tangible affirmations that their money won't be wasted. Assure them that, and you can seal the deal.
Now you know what goes on in the minds of your visitors as they scroll through your site. The next step is to figure out how to make a conversion-focused homepage by aligning your homepage elements to your visitor's needs. 
4 Secret tips for a High-Converting eCommerce Homepage
Take a moment to congratulate yourself. You've unlocked the secrets to creating a high-converting eCommerce homepage. Knowing what's in your visitors' minds is the hardest part and you've already covered it. That's half the battle won. 
Now let's look at the homepage conversion improvements you need to start implementing with examples from the top brands who are already killing it with this strategy.
Let's take on each question and find out how you can answer that effectively with certain homepage tweaks.
1. Make your customers feel at home
Most visitors form an opinion about your website and make a decision about whether to stay or leave – in just 0.05 seconds. Relevance and trust are the key factors that play a role in this phase.
Do your headline and subheadings convey what your visitor wants to hear?

Do they communicate the things that may be useful for the visitor?

Are they using the right terms that can hold the shopper's attention?

Do the visual elements look clean or cluttered?

Is the interface looking too spammy or salesy?
These are some of the questions you may want to ask yourself at this point.
If your homepage is targeting customers in the awareness stage of the conversion funnel, adding a customized value proposition may make sense. With a strong and compelling headline and attractive visual content, you can compel the readers to spend more time on your site. Adding the unique benefits your product and/or services offer your customers can help them browse more and improve conversion rates on your homepage.
Let's look at an example.

Once you land on Cocokind's homepage, this is the image and copy you're greeted with. If you're someone who's looking out for natural beauty skincare products, their banner is surely going to catch your eye. Let's look at what works for them:
A succinct copy that clearly explains what benefits you as a user will get from using the tool. They also have an accompanying CTA "Shop Now" that induces a conversion right away.

The visual elements too complement the copy perfectly. The vibrant pastel tones are bright, soothing, and immediately stand out. Keeping the product line visible ensures that you get an idea of the look and feel of the product and browse for more. 
Biotique's homepage takes on a carousel format instead of a banner approach.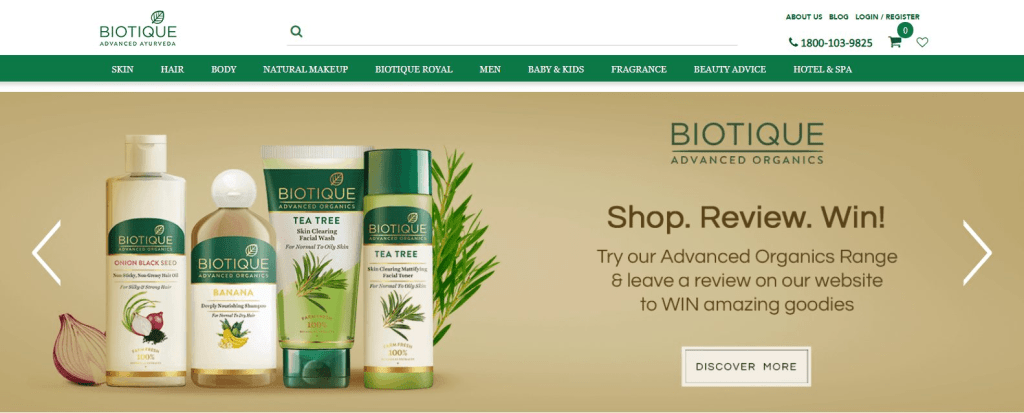 When trying to convey a strong value proposition a carousel format on the homepage may not always work. This is because there can be too much information to consume which may confuse the visitors.

The product line is visibly showcased which is a good thing. Using the first carousel banner for offers is also a good idea to engage the visitor.

The tagline "Advanced Ayurveda" is a part of the logo and communicates the segment of the brand. But the specific benefits are not qualified on the homepage which can be a disadvantage for first-time visitors.
To ensure positive conversions at this stage of the visitor journey, you can follow this checklist:
(a) Create an unmissable value proposition
When you create a value proposition with the customer in mind, it'll seldom go wrong. Understand how your products and/or services offer value to your customers and convey the same on your homepage.
(b) Craft a strong and relevant headline 
There are several tips out there to help you craft captivating headlines, including this video by Neil Patel. All of them agree that your headline and subheadline should be crisp, to-the-point, convey value, and be super convincing. Basically, make the copy anything but boring or predictable. Also, carry out some A/B tests to analyze what goes well with your customers.
(c) Use clean and engaging visual elements
Keeping the visual aesthetics clean and simple offers the visitor the space to consider your brand. Information or design fatigue can easily drive away a potential customer. A unique and catchy design will definitely imprint in your visitor's minds so they'll be able to recall your brand later. Again, an intuitive interface will act as an incentive to the customer to take the next step towards conversion. There are plenty of homepage design examples out there to take inspiration from.
(d) Ensure a fast page load time
One of the first things that put off potential customers is slow-loading pages. Your page load speed directly impacts the bounce rate. Research shows that if your page load speed exceeds 4 seconds, you can expect around 38% of your visitors to leave. Thus the shorter the page load time, the better the homepage conversion rates. You can make performance-related improvements such as reducing image size or leveraging AMPs or content-related improvements to ensure better page load times.
2. Make your customers' lives easier
Once you cross the first stage of piquing the interest of your customers, next comes convincing them that your products and/or services can finally fulfill their needs. 
This is where they zero in on your brand as a possible option and try to look for the exact solution they need. So this is where you can show them the exact products and solutions they may be looking for. 
To make it easy for your visitors to find the desired solutions, you can showcase your product range, add intuitive navigation buttons, relevant CTAs, and a simplified search button on the homepage. 
Bliss – a skin and body care brand – nails it in leading customers to their products the right way. Let's analyze their homepage optimization strategy to see what works:
The drop-down menu on their homepage categorizes their products into new arrivals, body care, skincare, and their entire range if you want. It further classifies its products by category, collection, and skin type. It gives the visitors enough cues to find their preferred products. This extensive product display compensates for the small search button on the top left corner.

The best part is once you land on any of the specific product pages, the filters still appear on the left to further help you distill down.

Moreover, on the homepage, they showcase all their range and collection of products with a CTA to go to their individual product pages.

The clean interface and light tones help navigation easily without overwhelming the visitor. 

The final icing on the cake is the search button which auto-fills the products based on what you type. This makes it easier for you to select the right product.

Once you move over to the mobile versions of the site, you'll find that they excel in the responsiveness factor as well. The search bar remains fixed on the top to make finding the products easier.

To ensure that your products are easily discoverable to your visitors, here's a quick checklist:
(a) Create intuitive and seamless navigation
Visitors always land on your homepage with a certain purpose. If they can't find what they're looking for, they'll leave. Focus on usability while allocating menu bars since 38% of visitors are prone to leave your site if they're not happy with the layout or content. By creating a user-friendly experience, you can nudge them to stay more, explore more, and most probably, convert. 
(b) Add a robust search bar
One way to simplify navigation is by adding a search bar option on your homepage. This in-depth Forrester research reveals that around 43% of visitors immediately head for the search bar and are 2-3 times more likely to convert. It's also a great idea to add the autocomplete option on the search bar. This not only helps save visitors' time from typing and gives ready results but also shows suggested products and/or services thereby increasing their chances of conversion.  
(c) Create a mobile-responsive version
Around 85% of adults prefer the mobile version of a site to equal or better than the desktop site. So you should also focus on mobile responsiveness when considering usability.
(d) Use relevant and actionable CTAs
To prompt your users to take decisive action, use simple and clear-cut CTAs. Don't forget to use them sparingly since too many of them can easily distract your visitors. The placement of your CTAs can impact your conversions as well. As per this extensive research, keeping at least one CTA above the fold is a good practice.
Hey, you'll love this: 21 Ways to Create Call To Action Buttons that Convert
3. Be ready to help them
Okay, so you've successfully held your visitor's interest and convinced them to check out your products and/or services. If they're truly considering you as an option, then they'll want to be sure before making a purchase. In that case, they may come back to you with questions. 
This is good news since this means that your visitors are genuinely interested in your business and taking it forward with specific questions. These can be basic ones like "do you deliver in my area" or "what's the duration of the free trial". 
When the visitors get into deeper questions, then you know they're serious about closing the deal. This is the best stage to instill trust in their minds and communicate that your brand and team are there to extend any sort of help to them. 
Adding diverse communication options such as a phone number, email address, contact form, live chat, and FAQ section will make it easy for your visitors to reach out. 
For example, Jackie Smith adds a warm and inviting live chat option on their site. They also go a step forward with a hint of personalization by adding the names of team members who'll help you out.

Or you can add your address, contact information, and social links like Dicky Mob has done.

Another way to use your footer section is to offer multiple communication options such as an address, contact information, contact form, as well as a FAQ section like in this example from Ryder.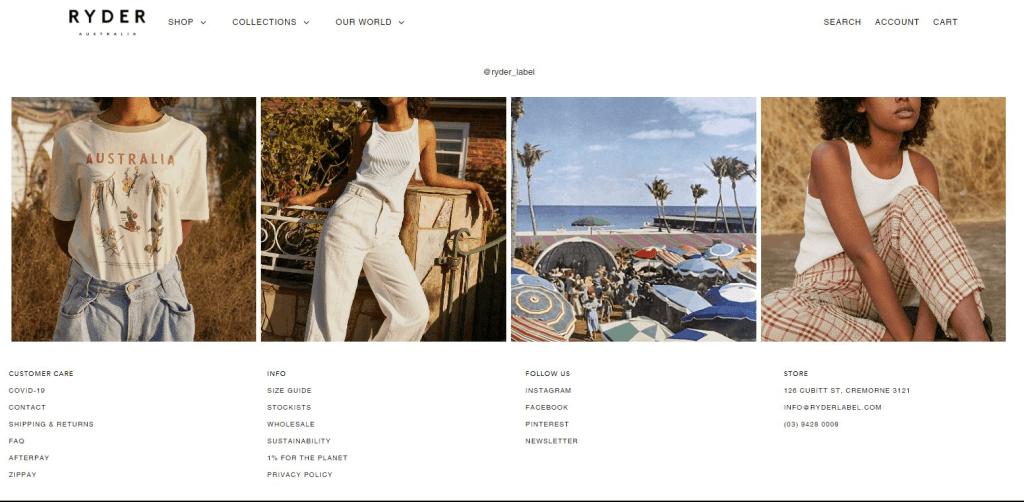 To ensure that you help resolve all your customers' queries so that they can make a final decision, make sure that you:
(a) Keep at least one contact option above the fold
For any visitor, contact information is one of the most important things on your homepage. It adds an immense amount of trust to your business. Keeping at least one contact option above the fold puts your visitors' minds at ease as they know they can reach out in case of anything.
(b) Share your address, contact number, and email address in the footer
This is a no-brainer since it tells visitors where you are located. More importantly, it tells Google about your location which works well with landing local customers. Make sure you add a map link that can enlarge in a new window. This works especially well if your visitors are using a mobile device. Adding a clickable call is also another great mobile-responsive feature you should incorporate on your homepage.
(c) Add a contact form
You can either keep the contact form in the footer or place a link taking the visitor to the contact form. Contact forms are great for homepage conversion since they give you the option to analyze form submissions. It also opens up more communication channels for you. You can send the visitors to thank you pages where you can add targeted messaging and CTA. You can also send automated emails in response to the contact forms, again with more targeted CTAs. 
(d) Keep a live chat option handy
Offer a live chat option with specific representatives available to attend to your customers. This is crucial since around 79% of customers prefer live chats for the instant response advantage. But make sure not to drown the benefits of live chat with poor execution. Long wait times are never pleasant for the visitors, keep it within 3 minutes. If you're using a bot, make sure it's well programmed and doesn't offer generic answers. The last thing your visitor will want is to repeat the same questions and get vague answers.
4. Be more trustworthy
You're at the final step of increasing conversions with your homepage. The last leg of the journey is to instill trust in the minds of the customers about your brand. 
You've convinced your visitors to convince your brand. You've also shown them that you have got the solution they're looking for. You've even taken the time to clear their doubts and answer their questions. The only thing left is to top it up with some social proof. After all, your visitors will need some justification to invest their hard-earned money in your product and/or service.
Hey, you'll love this: What is social proof and why it is crucial for your eCommerce site
If it was a brick and mortar business, you could have easily caught their attention with a neon light banner or an attractive storefront. Virtually, you can do the same with testimonials, success stories, badges, and awards.
Know what gives your brand a great boost? When a celebrity endorses your product and/or service. For example – even if you've never bought an energy bar from Nature Valley – their homepage will surely entice you to give it a try.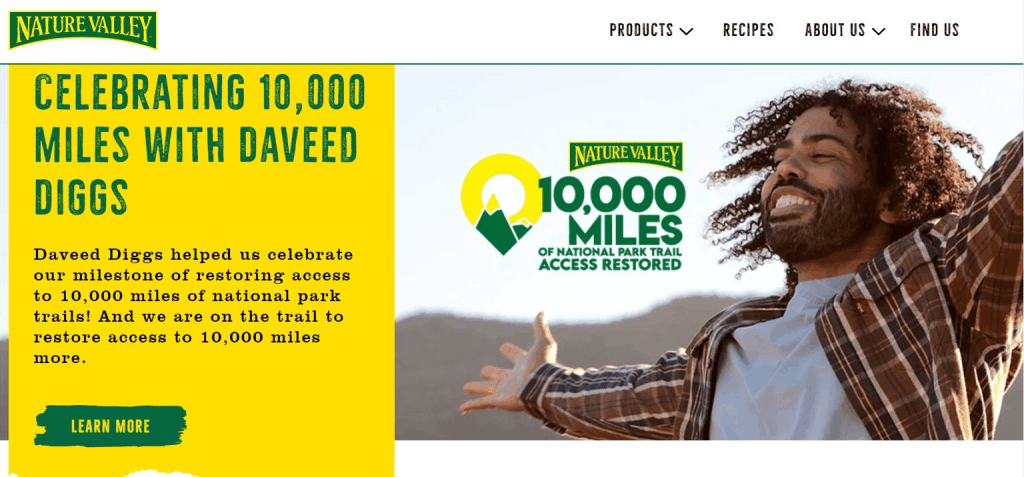 Especially when you see a popular face like Daveed Diggs associated with it. Celebrities can act as a huge influence on your visitors if done right.
Another great way to build trust is by showcasing your product and/or service in action. When your visitor sees a large group of people already using your brand, they are more likely to make a purchase. 
The outdoor accessories brand, Fjällräven nails this by flaunting their #NatureisWaiting campaign on their homepage.

They not only show how professionals are already using their products but also urge their visitors to share their experience, creating a healthy social proof cycle.
Your accreditations and certifications can also act as a mark of trust for visitors to choose your brand. These can also be great assets to put on your homepage. Take the example of Big Haat.

They've added their accreditations in the top left corner of the banners. This can easily put to rest any doubts your visitors may have about the quality.
To add the final layer of trust for a high-converting eCommerce homepage, follow this checklist of social proof essentials:
(a) Add at least 1 social proof option on your homepage
You can choose from the 6 common types of social proof – influencer, celebrity, user, wisdom of the crowd, wisdom of your friends, and certification.
(b) Consider using video testimonials
More than your promises, your visitors will be able to relate more to your clients' guarantee. That's why client testimonials are a necessary addition to validate your claims. If it's in the form of a video, nothing like it. Video testimonials work like magic on conversions. Research says that your visitors are 174% more likely to purchase from you after seeing your video.
(c) Add client logos
There are several ways you can leverage your client list. You can either add the logos of your clients with a line like "Recommended by". You may also list your publications with a line such as "As seen in". 
Final Word: Build a Long Term Homepage Conversion Strategy
How does it feel to taste the sweet joy of success? Wouldn't you want it to last for as long as possible? 
Now that you've mastered the art of creating high-converting eCommerce homepages, you'd want to recreate the success every time. You'd want a larger number of visitors who land up on your homepage to convert. 
The best way to do that is to keep testing.
A/B testing is a great way to analyze what works and what doesn't work.
Try out adding and subtracting various elements on your homepage to see what clicks with your audience and what doesn't.
To help you on your conversion journey, ConvertCart can help you with an unmatched optimization suite of 21 tools. Along with our A/B testing tool, you also get dedicated team support to optimize the tool to boost your homepage conversion rate. 
Learn more about ConvertCart and how we can help you step up your conversion rates when you visit our website. 
2