You've put in a lot of work into your eCommerce website.
You've optimized the landing page, ran ad campaigns, and made the design responsive. 
Your traffic is growing too. 
But, people are not buying. 
Most of them seem to drop out right before the checkout.
You question: why is this happening?
 You'll find your answer in the numbers: seven out of 10 people abandon their carts before checkout.
That's almost three-fourth of people who visit your site and don't make a purchase. 
That's too many lost opportunities to convert a visitor into a buyer. 
This happens because what you're offering is not what customers expect at the checkout stage.
You're probably not working on improving and optimizing your website checkout flow.
Your checkout process could be the reason why your customers come close but don't finish.
Ask yourself these questions before you move forward:
Is the checkout process easy?

Are there any roadblocks? 

Is the design responsive?
You might also wonder why it's important to look into the checkout flow at all.
Studies suggest that 69.23% of shopping carts are abandoned during checkout. That's 60 out of 100 people who visit your website.
These are the reasons why they don't complete the purchase.
Take a look at this chart: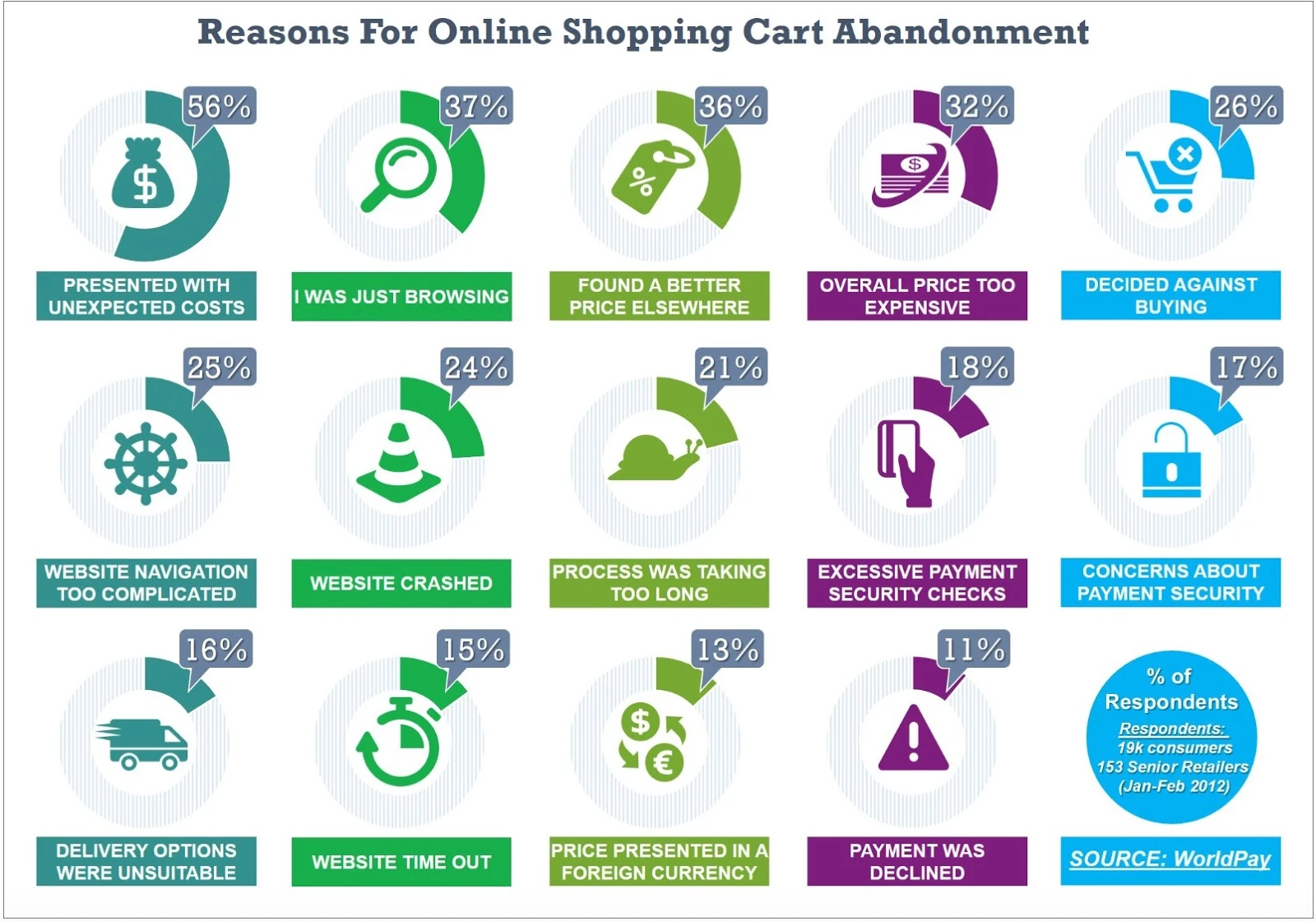 Most reasons here are associated with the checkout process.
Of course, you don't want your customers to fall in this bracket. You want to make sure that they always go through the process once they've decided to checkout. You want to increase your add to cart rate.
But before we get to that, do you also wonder how you can get visitors to checkout at a lightning speed? What can you do to make checkout A LOT faster and quicker? How to improve your guest checkout conversion rate?
27 Brilliant Ideas to Increase your Website Checkout Rate
We've compiled 27 brilliant and proven ideas after studying several high-converting checkout pages. These insights will help you to increase your website checkout rate that's sure to keep your customers hooked and business flowing.
The tips are divided into two sections: the first on driving them from the product page to the checkout page and the next on creating a high-converting checkout page.
Let's begin.
NUDGE THEM FROM PRODUCT PAGE TO THE CHECKOUT PAGE
MAKE THE CHECKOUT PAGE SUPER COMPELLING FOR CONVERSIONS
HOW TO NUDGE THEM FROM PRODUCT PAGES – TO THE CHECKOUT PAGE
1. Add multiple checkout options
Do you know how to add a checkout option to your website the right way?
Think about this. If a customer spends less time looking for a checkout button, they're likely to make a purchase sooner. That's why you should include a checkout option at the top and bottom of the page. 
Once a customer decides to buy an item, they should be able to get to checkout quickly.
Champs Sports is an excellent example of doing so, and doing it well: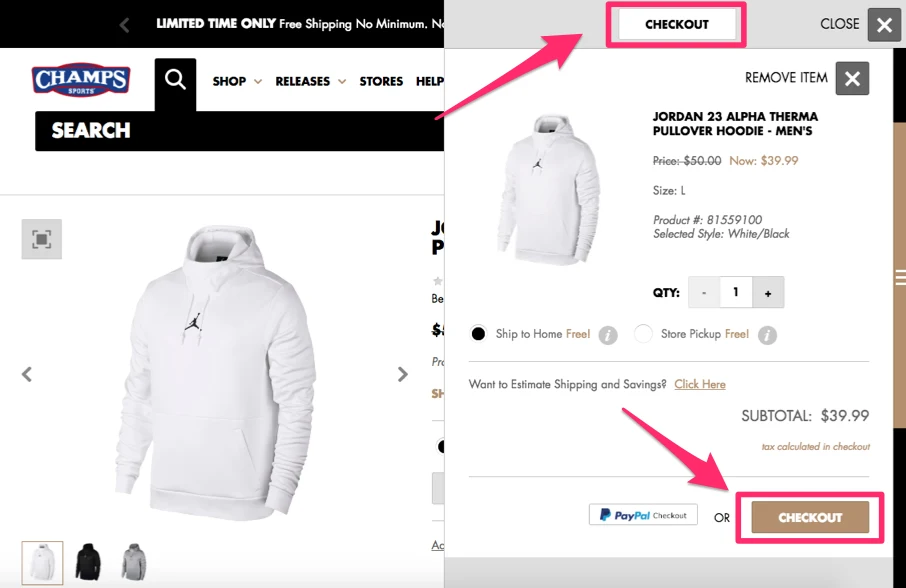 They've included the checkout option right at the top and bottom of the page — so it's always staring at you. 
What's even better is that customers can keep browsing the items while the cart is being reflected on the side, so they can know all the items which are added and what the sub-total looks like.
2. Make your CTAs shine
Differentiate your CTAs: whether it is Buy Now, Add to Cart, Place an order or Checkout — don't make them look all the same. 
Choose different color schemes to make them stand out — while making sure they fit the overall website's design. 
It's no secret that the size, color, positioning, and formatting of CTAs affect a customer's choice to make a purchase.
Look at Walmart: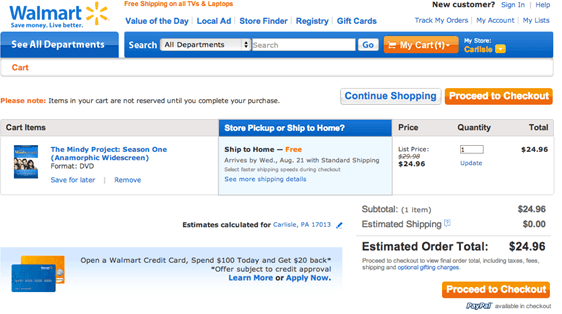 They've kept 'Continue shopping' and 'Proceed to checkout' in two contrasting colors, so the customers can choose quickly as per their choice.
Hey, you'll love this: 21 Ways to Create Call To Action Buttons that Convert
3. Use images super smartly 
When a customer has added an item to the cart, always show a high-quality picture alongside the product for a visual impression. Telling customers what they're going to get will satisfy their instant need for gratification. 
A good-quality picture or video can also help to reinforce the customer's decision to purchase. Once they see the visual confirmation of the product, they feel more confident about making the purchase. 
We love how Bath & Body Works turns this in their favor. Look how they've included high-resolution pictures next to their products: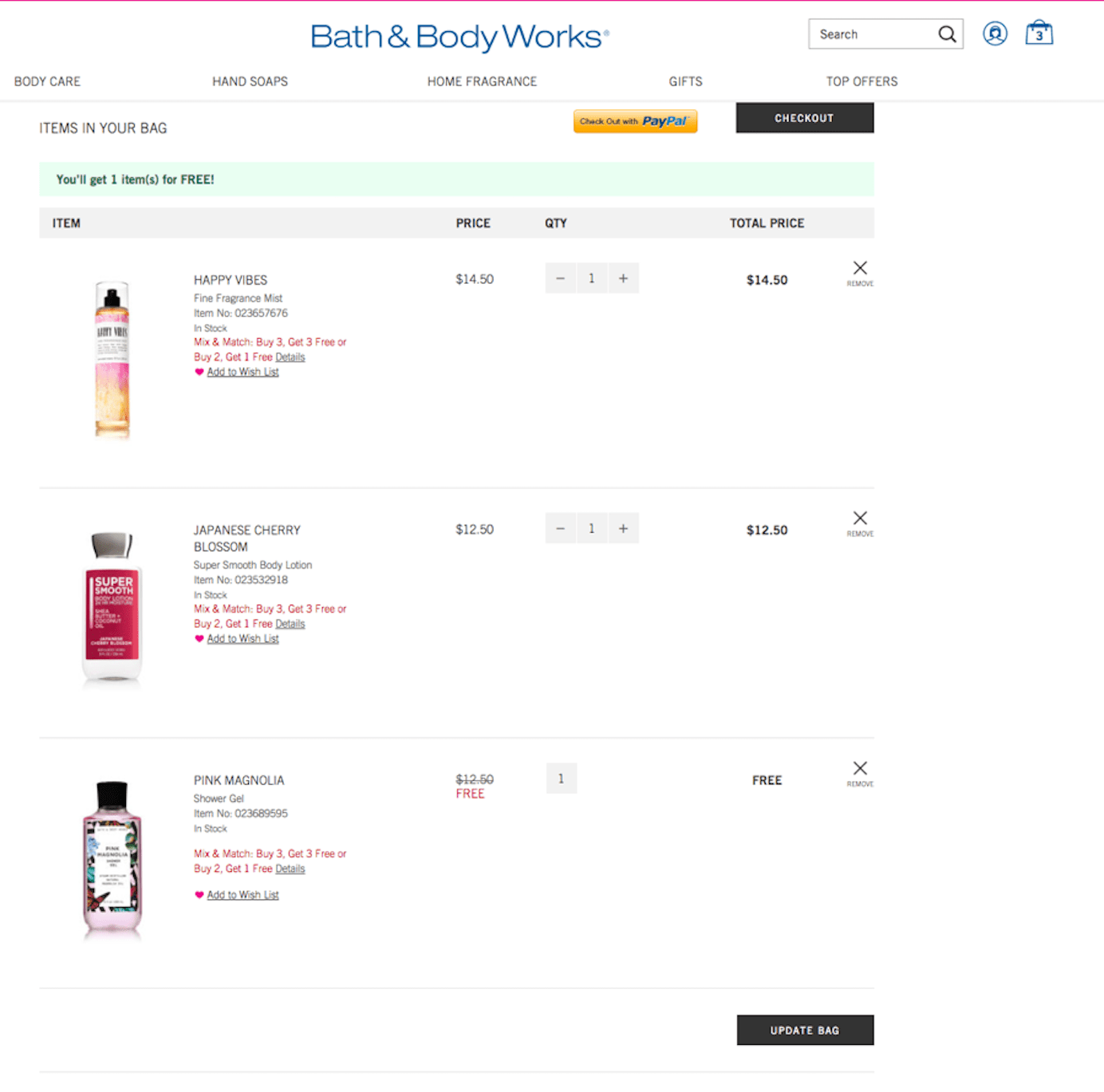 What's super attractive about this checkout page is the discount applied toward the end which makes one item free of cost for the customer. Anyone would jump at this opportunity – at least – we would!
4. Let buyers save their cart or add to their wishlist
Most people don't use a wishlist to save desired items, they put them in the shopping cart and save them for later. Giving customers an option to save their cart or to add items to their wishlist will increase the chances of customers coming back to make a purchase.
5. Be transparent about stock-out in advance
No one likes to reach the checkout page to discover the product they've chosen is no longer available. 
That's why you should be transparent about the stock, sizes, colors, configurations, etc. when a customer is browsing a product.
ASOS lets a customer know on the product page which sizes are currently unavailable.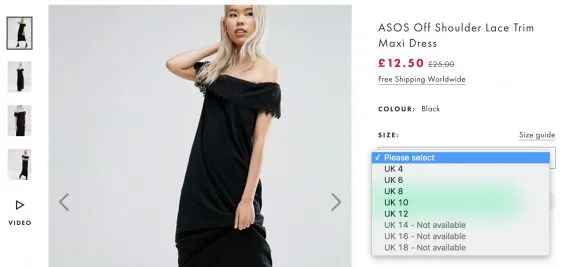 Wheelspin takes it one step ahead: They let customers set up notifications – by email, SMS, or any other preferred mode, so they can know when the item will be back in stock. They also let them know an expected date by when the item will be back in stock.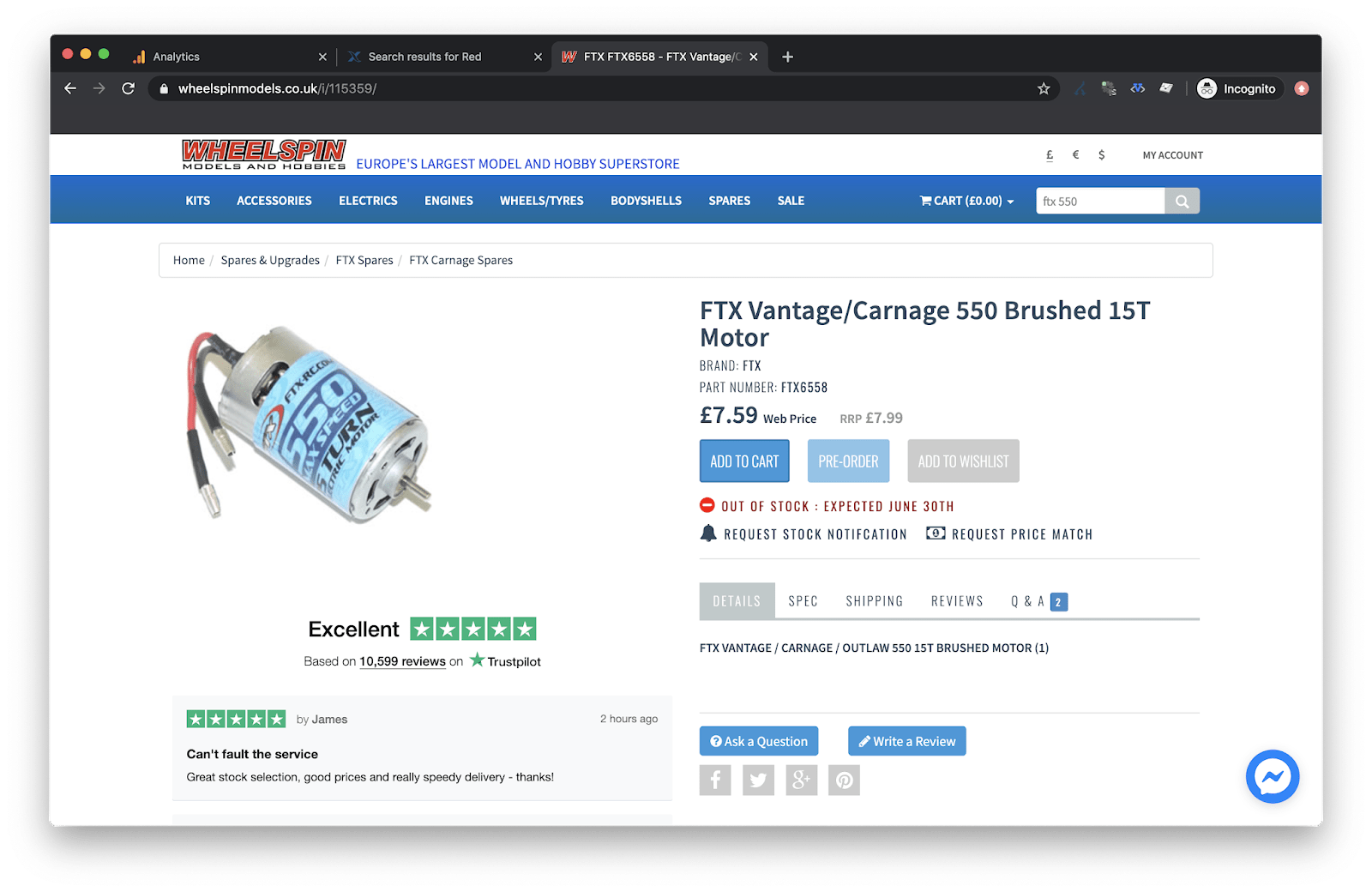 6. Are you making product descriptions interesting enough?
Using the same description for each product isn't going to help. You need to make sure each product has a personalized copy with a unique selling point that will make your customers take notice. 
Steer clear of hype-based copywriting. Focus on writing simple and crisp content that will make your customers want to read more.
Take a look at this copywriting example from Casper. We love it because it conveys the regular benefits rather attractively: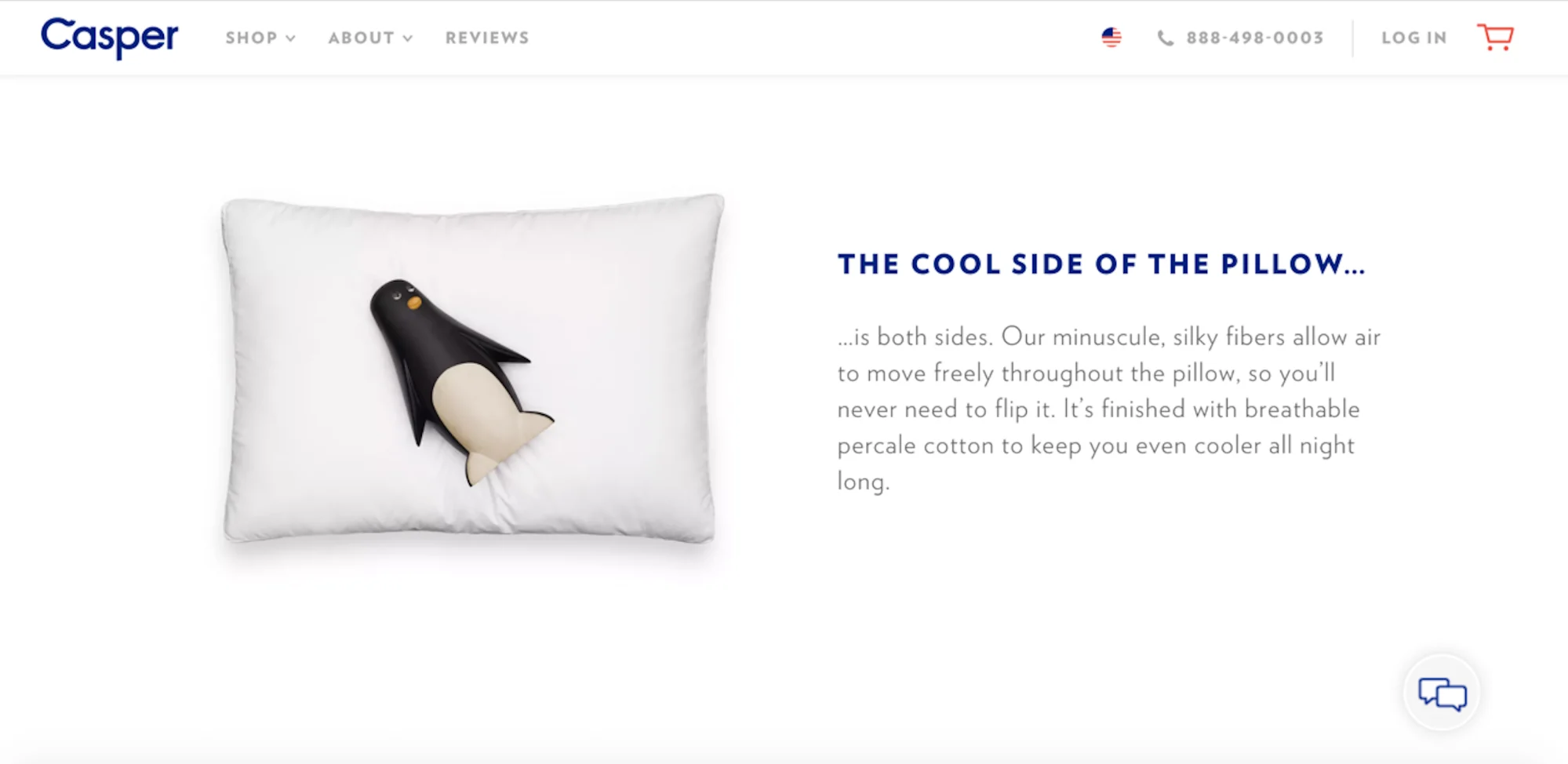 7. Jazz up your social proof
Customers are taking a risk of buying your product. They need assurance that the product will be of good quality and their money won't go to waste. 
Social proofs help them feel comfortable and confident to make a purchase. 
Placing social proofs at the checkout page will increase the possibility of customers going through the page. This could be in the form of reviews, testimonials, logos, case studies, etc. 
Look how ModCloth does it here. They include reviews below the product title letting customers know what other people think about the product: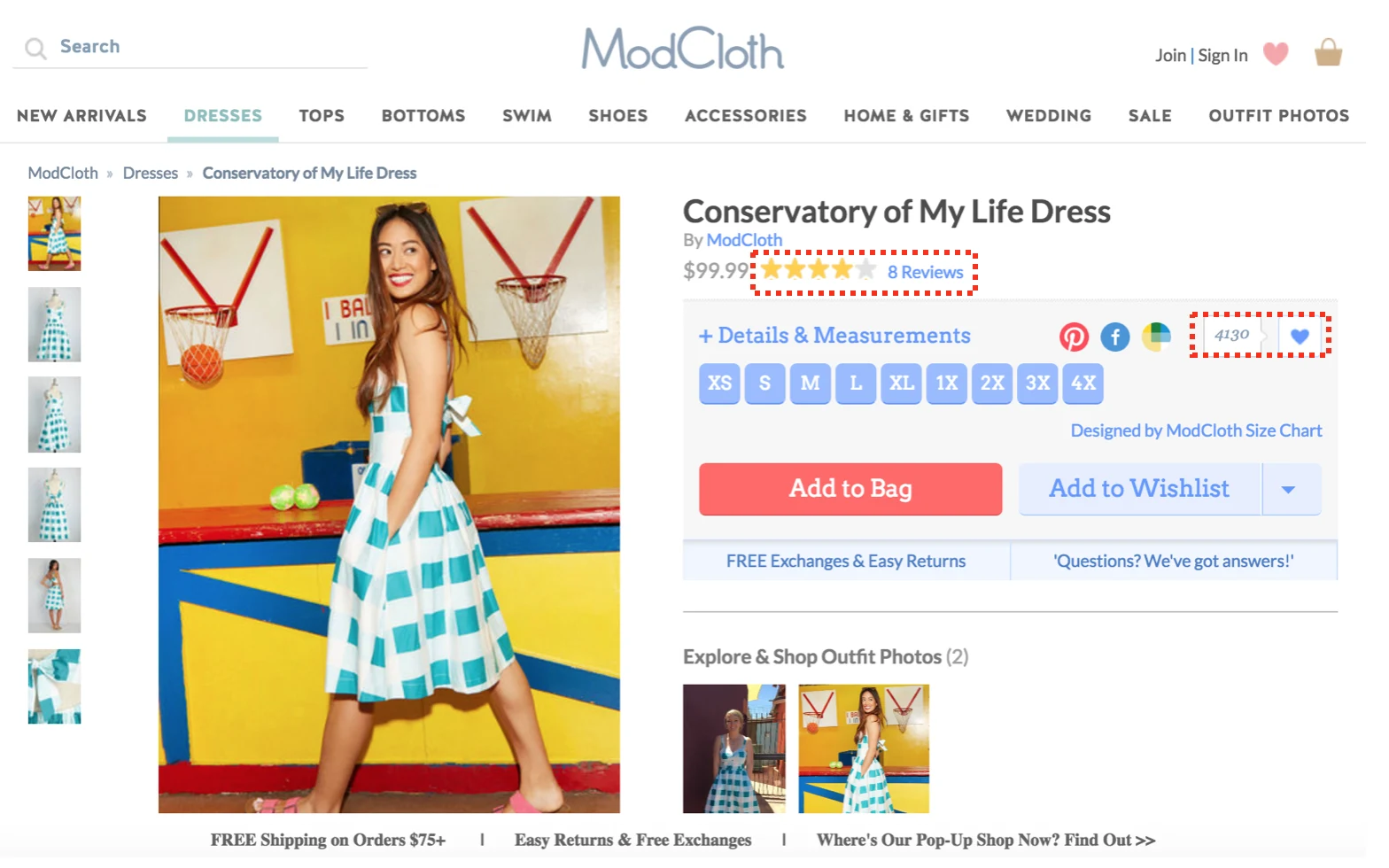 This website includes logos of the companies on their checkout page to get more people to convert:


For any first-time buyer, this is a huge relief, and it makes them feel assured about buying from a new site.
8. Display email and phone number prominently 
Telling customers they can reach you through phone or e-mail is always a good idea. Not everyone is comfortable with live chat, and sometimes customers want to talk to someone on the other end to ease their doubts. This also reduces their anxiety, especially for first-time buyers, and makes them feel comfortable to go through the purchase.
Fab Futons is an excellent example of this category. They provide the customer care number and email ID on the top corner of their website, so people can reach out in case of any queries.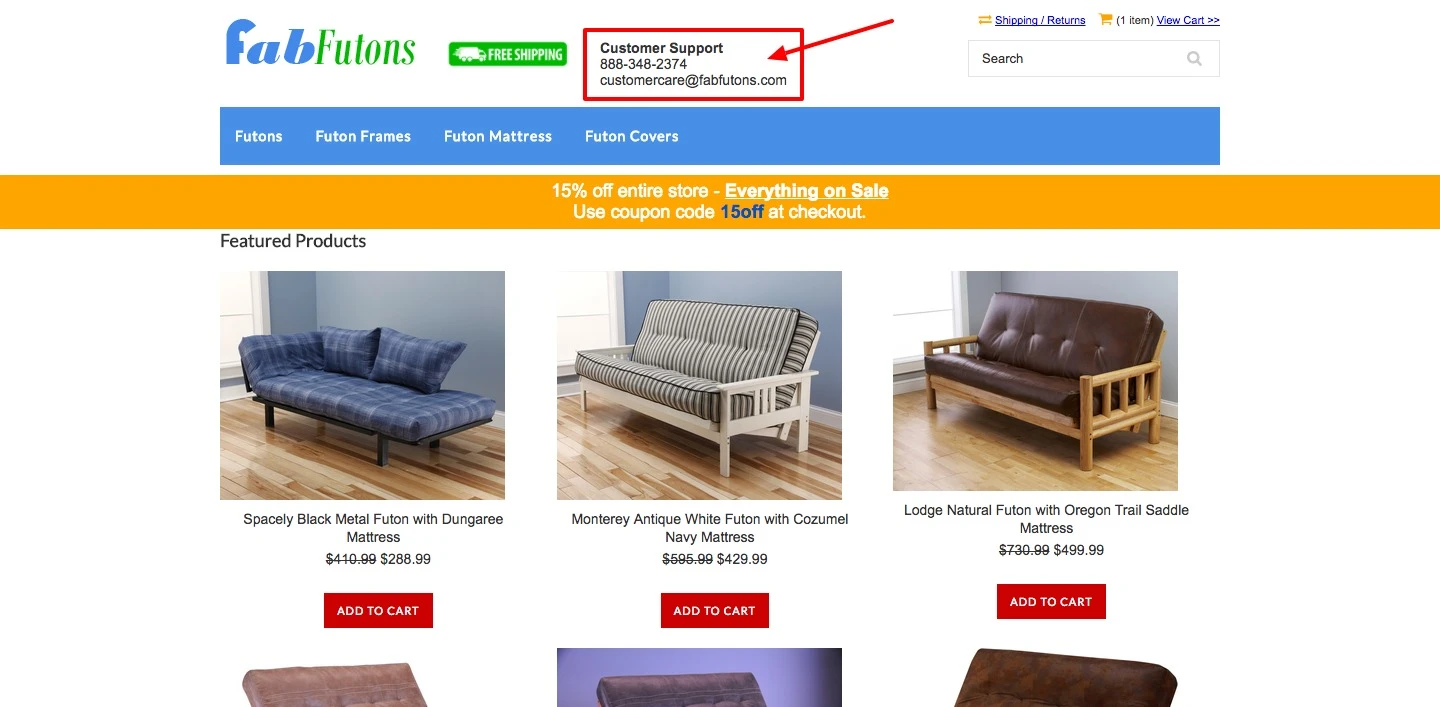 Don't miss the 'free shipping' banner next to the contact details – that is another bonus for customers to checkout faster.
MAKING THE CHECKOUT PAGE SUPER COMPELLING FOR CONVERSIONS
You've successfully moved your customers from the product page to the checkout page. 
They're about to begin the journey which ultimately decides your fate in the business. 
You want to look at everything that makes their experience smoother and your conversions faster.
Luckily for you, we just have the right ingredients. Here's a handy checklist of everything you need to do to make the checkout process easier for your customer and rope in higher conversions:
9. Allow guest checkout (and make it prominent)
Sometimes customers want to make a quick purchase. These could be the first-time customers got directed from ad campaigns – and you don't want to turn them away by asking to make a profile before purchase. It's counterproductive for your business. 
A study found that asking people to make an account first is the second most common reason for cart abandonment.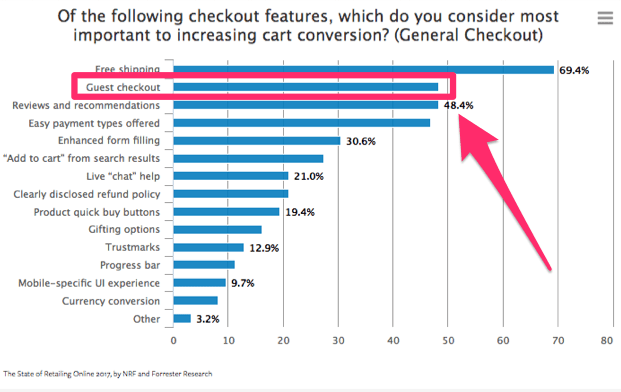 Take a leaf out of Walmart's marketing strategy below. They allow visitors to checkout without creating an account, thus, attracting more visitors.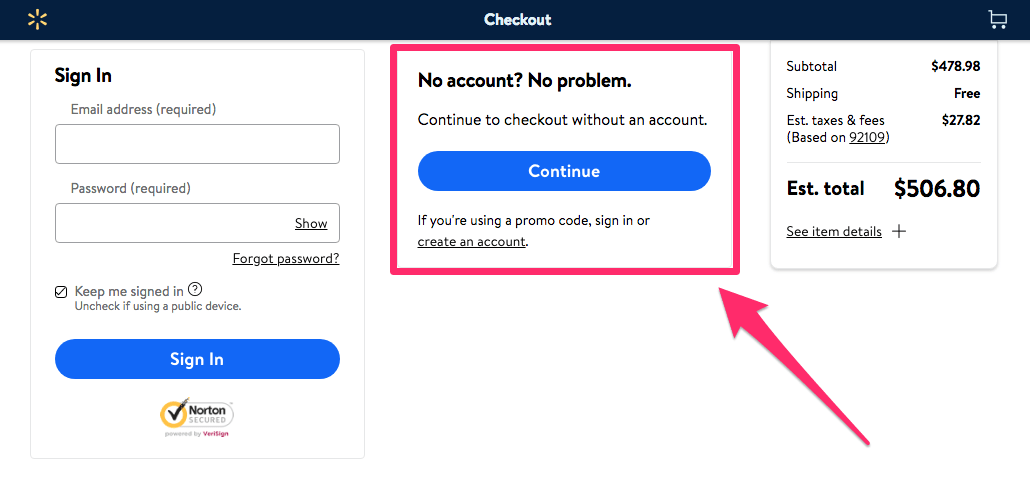 We do get that at some point you'd want your customers to sign up. After all, that's how you can get their information to target them for future purchases. You'd want to know about their preferences, dislikes, and behaviors to spin a marketing strategy. We get all of that.
And you know the best way to do it?
Check out how Nike gets customers to sign up. They offer free delivery to members who sign up. People would spend a few minutes making an account if they're saving money in return.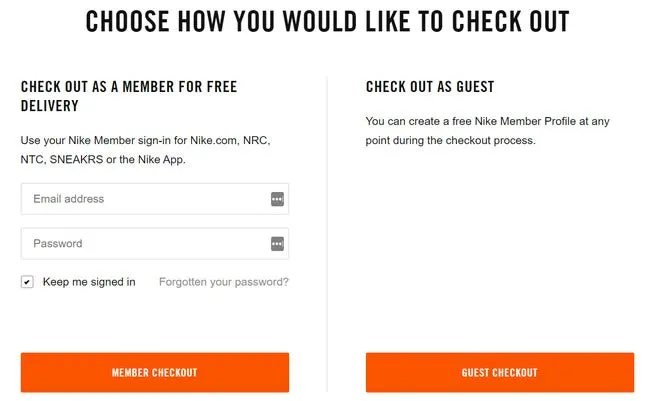 10. Fewer form fields = gold
You don't want customers to turn away because of too many questions.
They've made up their mind to purchase and asking them too many questions can lead them to abandon their cart. 
Ask yourself what information is necessary for customers to complete the checkout. Keep those fields mandatory. Leave the rest to the customer's discretion. 
Research shows the websites with lesser form fields have a better chance to increase their website checkout rate.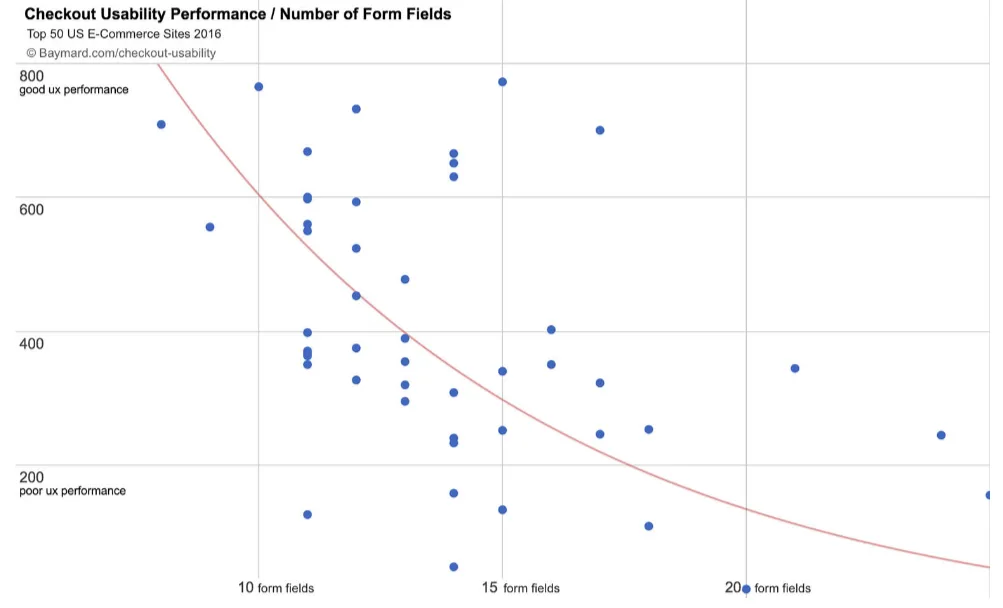 Make sure to ask only as much information as you need to complete a transaction. 
Also: look into data validation & auto-complete options.
If you need a customer's name during the shipping details and payment process, rather than asking them twice, use the auto-fill option on Chrome and Safari that fills the details by itself.
Say, a customer's billing and shipping address are the same. Instead of asking them to fill it twice, have a checkbox below indicating the details, which they can tap for the details to be auto-filled.
This reduces the number of steps in the process and increases their likelihood of checkout.
11. Should you go with a single-page or multi-page checkout? 
The jury's out on this one. For some businesses, a single-page checkout proves better. For others, the multi-step checkout seems the way to go.
A furniture retailer with a high AOV saw a 38% hike in conversions from the multi-page checkout compared to the single-page, as per a study by Invesp. On the other hand, the Vancouver 2010 Olympic Store changed its multi-step layout to single-page and saw a 21.8% hike in conversions. 
Even though the answer might differ from business to business, a single-page checkout has more benefits for an eCommerce store.
At first, they seem shorter to customers and provide an incentive to complete the purchase. 
There's no complication; all fields are mentioned on a single page and the customers don't have to go back and forth in case they forget to fill something.
There are also fewer clicks involved. Research suggests that websites with lesser clicks have a higher checkout conversion rate. 
Couture Candy is a brilliant example of leveraging a single-page checkout. Pay special attention to the structure and form flow here.

For businesses who opt for multi-step checkout, adding a progress bar can streamline the checkout process and make it easier to complete the purchase. 
A progress bar tells a customer where they are in the checkout process and how long it will take to complete the transaction. 
Since it makes the next step crystal clear, a customer knows how long it'll take, which keeps them going.
TrendIn.com does it nicely. They don't have too many fields and their progress bar looks crisp and effective.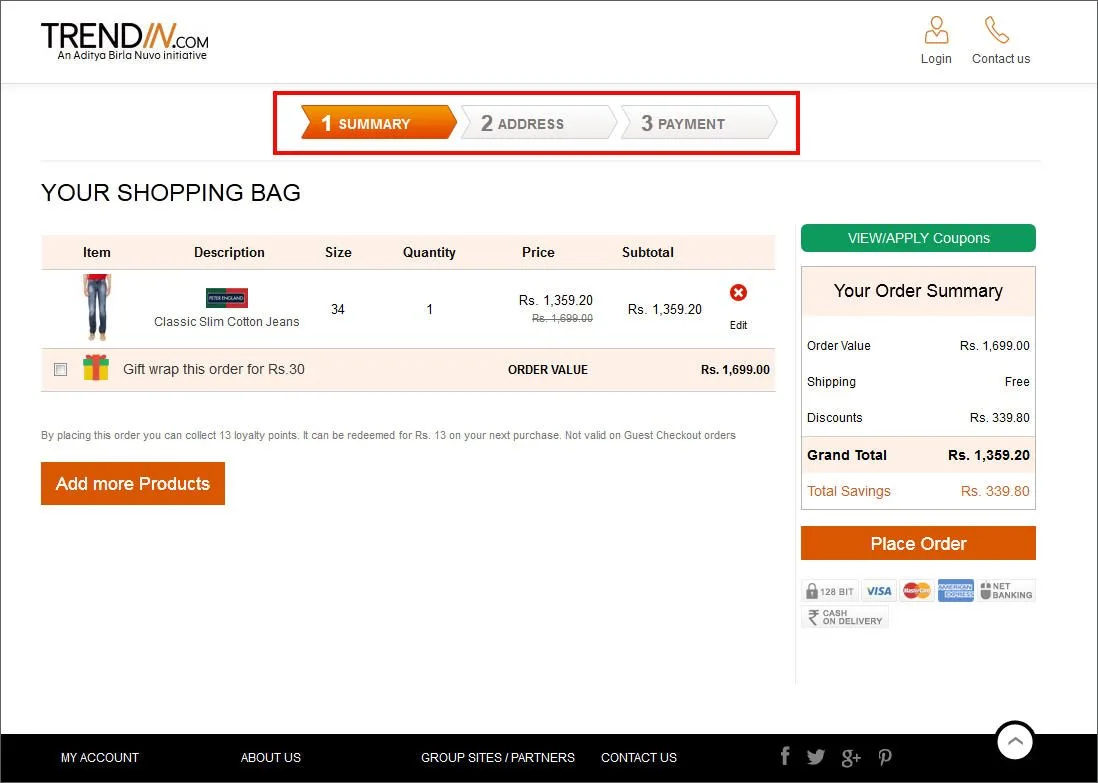 12. Set up a default shipping/billing address for returning customers
No one likes filling out information to make a purchase.
Least of all the returning customers who have already given their information before.
So how can you make it easy for them?
Set up a form that can auto-fill their information.
Whether it's their name, email ID, contact number, or shipping address — everything can be saved when they make a purchase the first time.
It becomes more convenient with tools that can look up the address of the customers based on their postal code and auto-fills it.


This reduces the number of steps in the process and makes it easier for customers to keep going until they complete the transaction.
13. Get rid of all distractions from the checkout page
You don't want customers to be distracted when they're just a few clicks away from the checkout. 
Removing the core header and footer navigation of the store can help to achieve that. Get rid of all sorts of distractions that can disturb customers while checking out.
Instead swap the header and footer links with other important links such as delivery timelines, security seals, secure payment information, etc.
Berkey Waters does that here. They have a single-page checkout with important information on the side to make customers check out quickly.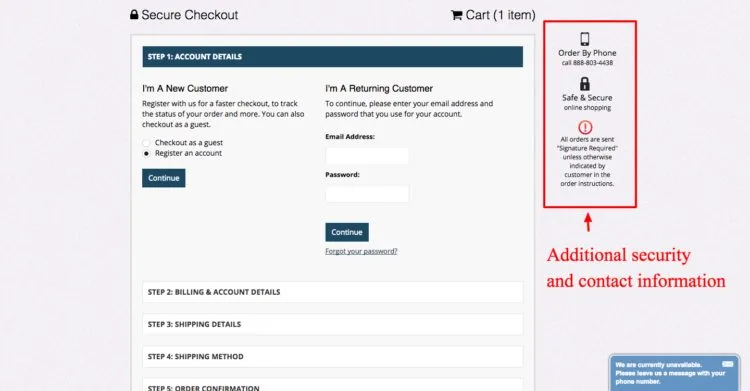 14. Make it super easy to add/remove items 
Give customers the flexibility to change their mind and remove items from the cart. At the same time, make it easy for them to continue shopping after they've added items to the cart. 
Flash Tattoos shows a pop-up window after a customer added an item to the cart. Customers can either proceed to checkout or continue shopping from here on.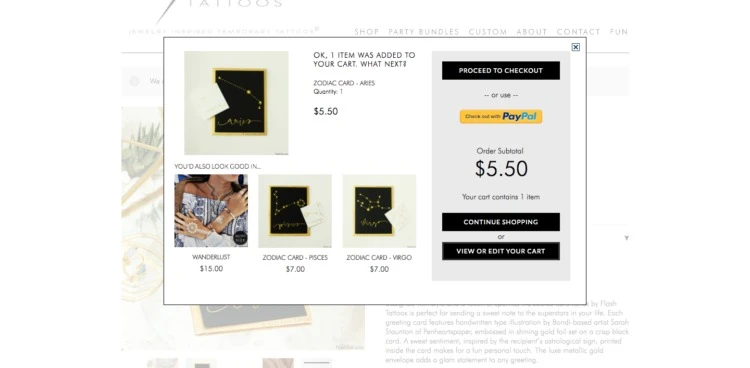 Erdem does it on a single-page layout. Instead of showing a pop-up window, they notify users about the cart details when they are still on the product page.

An even better way to increase conversions is to upsell and cross-sell the products to increase the average order value. 
Quad Lock recommends an add-on to the product the customer is already looking at to complete a purchase.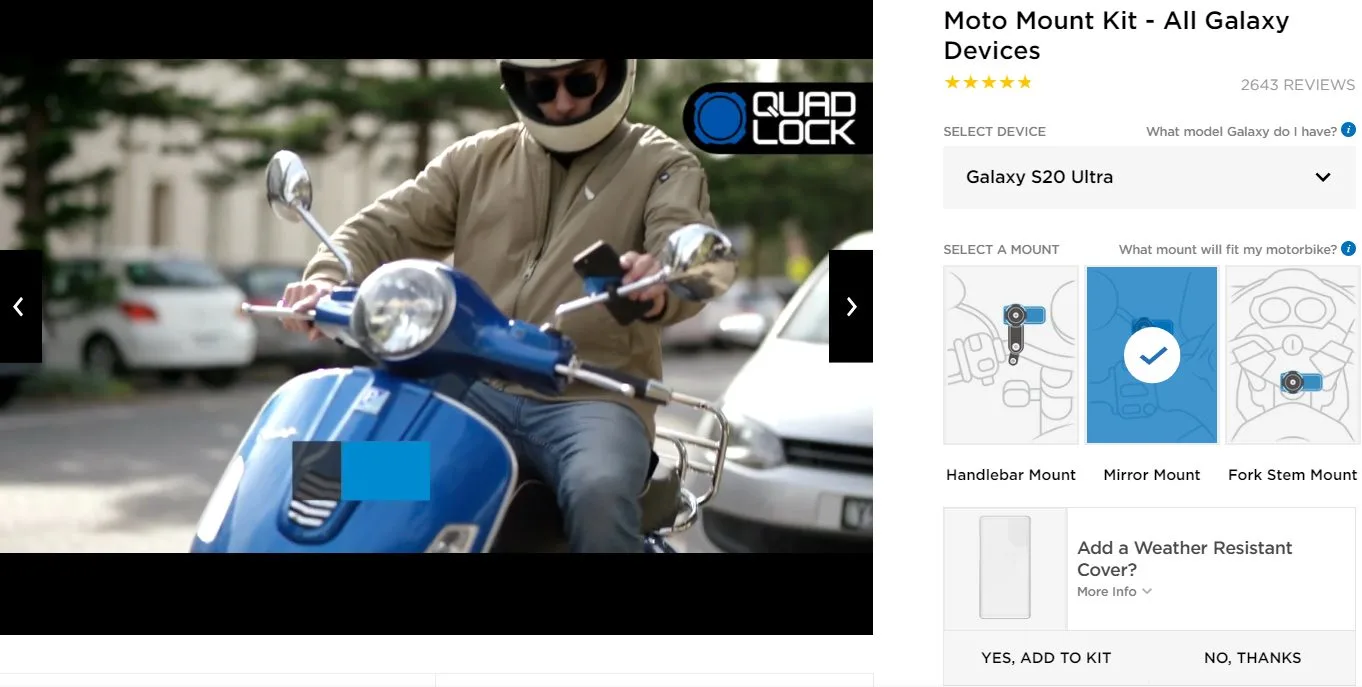 Murrays Cheese does a brilliant job at providing a recommendation that complements the product the customer is viewing.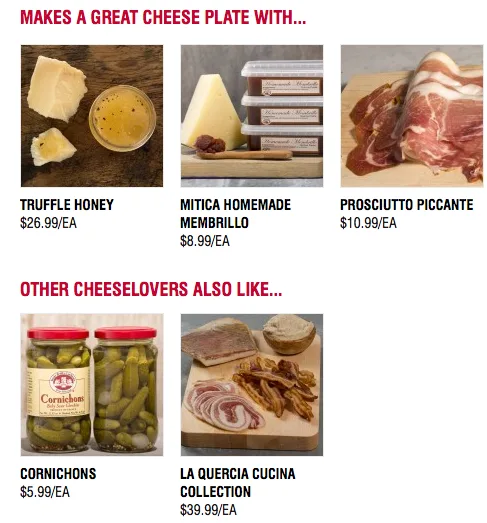 15. Include a detailed product summary
The most obvious part when a customer is checking out is letting them know what exactly they've ordered. 
You could only need their name, e-mail address, and a few other details on your end, but showing customers the size, color, quantity, etc. of the product they've ordered will reinforce their purchase decision. They know what they're going to unpack when the product lands on their door.
We love Staples' checkout page. All product details are transparent and the customer only has to press checkout to complete the purchase.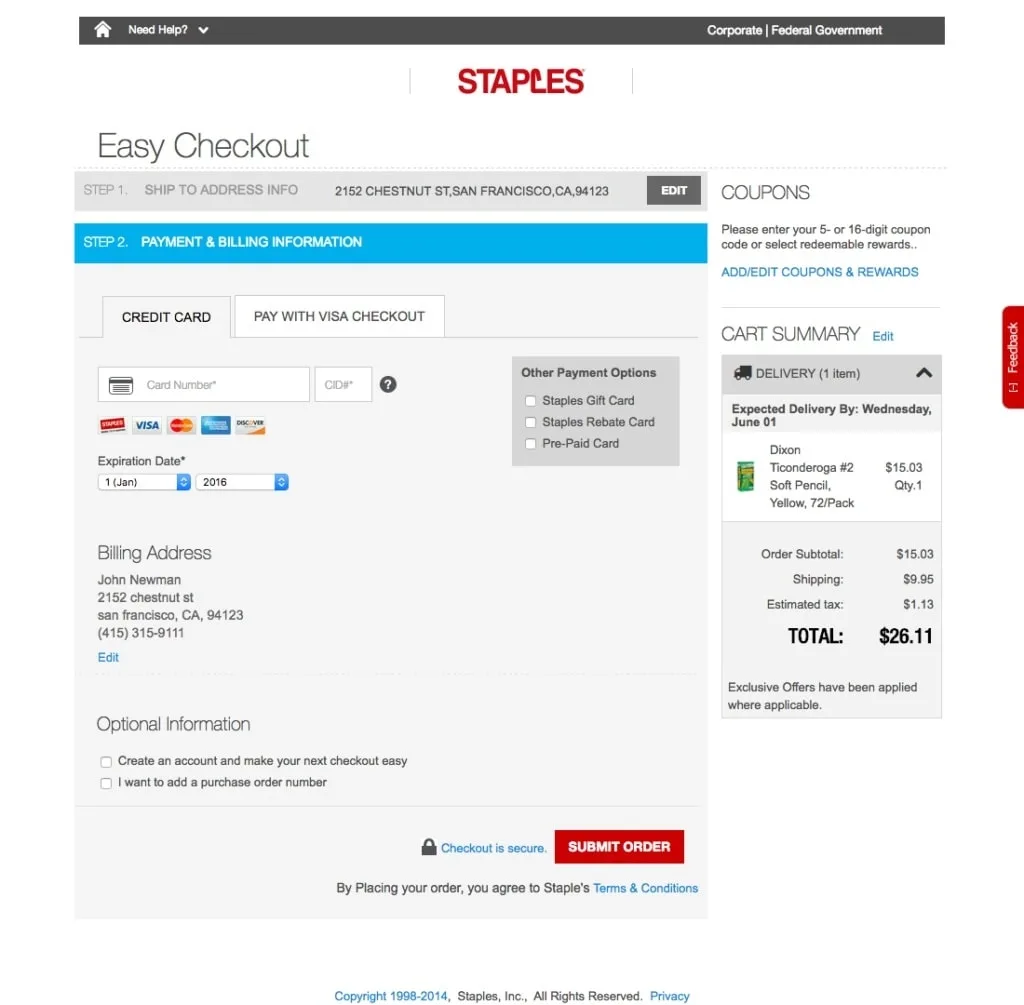 16. Give them surprise discounts (who doesn't love them!)
'Congratulations, you've unlocked a promo code!'
'Add products up to $200 to get a 10% discount'
'Free gift on the order above $5000'
We've all seen how well that works. Customers jump at discounts and make a purchase faster than they normally would.
Discounts can be bundled with other strategies for even better impact.
You can upsell and cross-sell products on the checkout page which are relevant to customers' purchase. 
You can run a limited time deal to tickle a sense of urgency or FOMO. 
You can stop them right when they're leaving the site with an exit-intent pop-up.
You can get them to increase their order size by offering a discount on a minimum cart value.
All of this moves customers one step closer to the checkout increasing the website's conversion rate.
Look how Sephora provides multiple incentives on their checkout page which makes it easy for customers to just pay.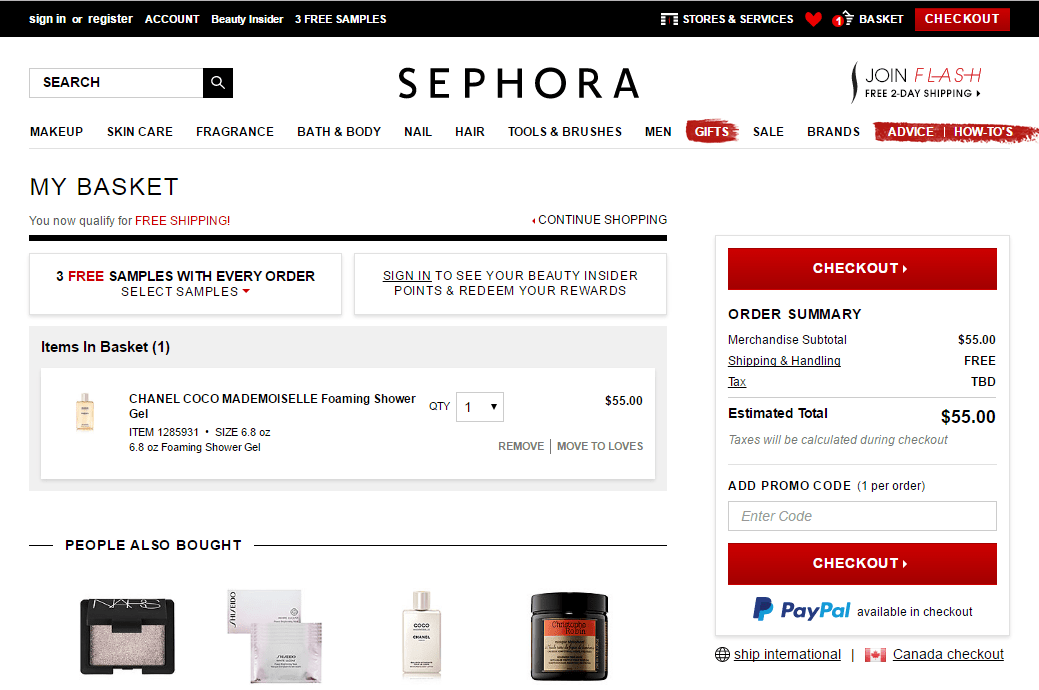 3 free samples with every order? Sold.
Free shipping? That makes it even better.
Look how it tackles the sign-up bit too. Anyone would give a few minutes to sign up if they're getting reward points in return.
It also nails the upselling strategy.
It recommends what other people bought with the current product to prompt buyers to explore and add more items to the cart. 
17. Go all out on *free shipping*
54% of people say they abandon their carts because of expensive shipping. That's a lot of potential customers lost over an issue that can be easily fixed. 
Here's the thing – you can offer free shipping to customers while making a profit, or at least no losses.
You can raise the prices of your products to make sure the shipping prices are built-in so that the customers are not surprised by the additional cost.
If a product costs INR 5000, a customer is expecting to pay that amount. Raising the price to INR 7000 with additional taxes and surcharges will make customers rethink their decision and can ultimately hurt your conversions.
Most businesses can't afford free shipping. It's a huge burden to bear.
In that case, offering free shipping when a customer spends $X is a feasible way to go. You can set a minimum cart value that a customer has to reach to avail free shipping.
Look over at Schuh. It offers free delivery over €75, provides a flexible return, and also a discount for students: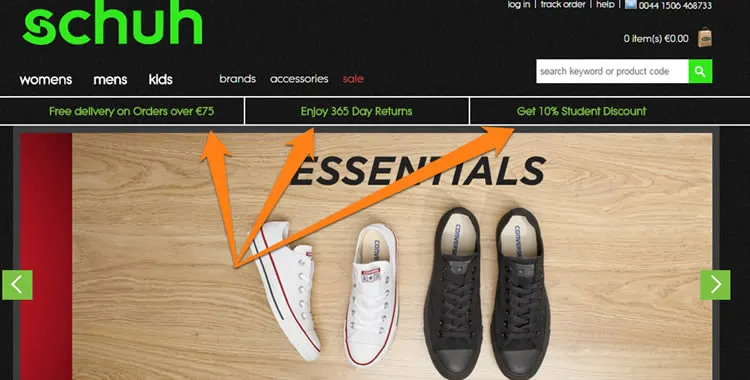 ModCloth qualifies a buyer for free shipping after they're reached a minimum cart value.
This is a great way to encourage customers to increase their cart size so they can qualify for free shipping. Most people will consider adding more items if they know they are going to save money in return.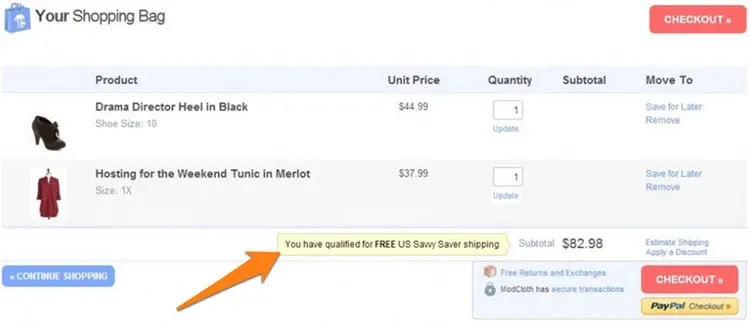 Hey, you'll love this: Why is my Conversion Rate Dropping? And How to Fix It
18. Throw in a gift wrap option
Customers might not be always shopping for themselves. They might be picking something out for their loved ones to gift on a special occasion. 
Throwing in a gift wrap option can save them the headache of doing it themselves. 
We're a big fan of how Amazon pulls it off. They offer two options: A gift receipt and a Gift Box for customers to choose from. While the first one is free, you need to pay for the second one.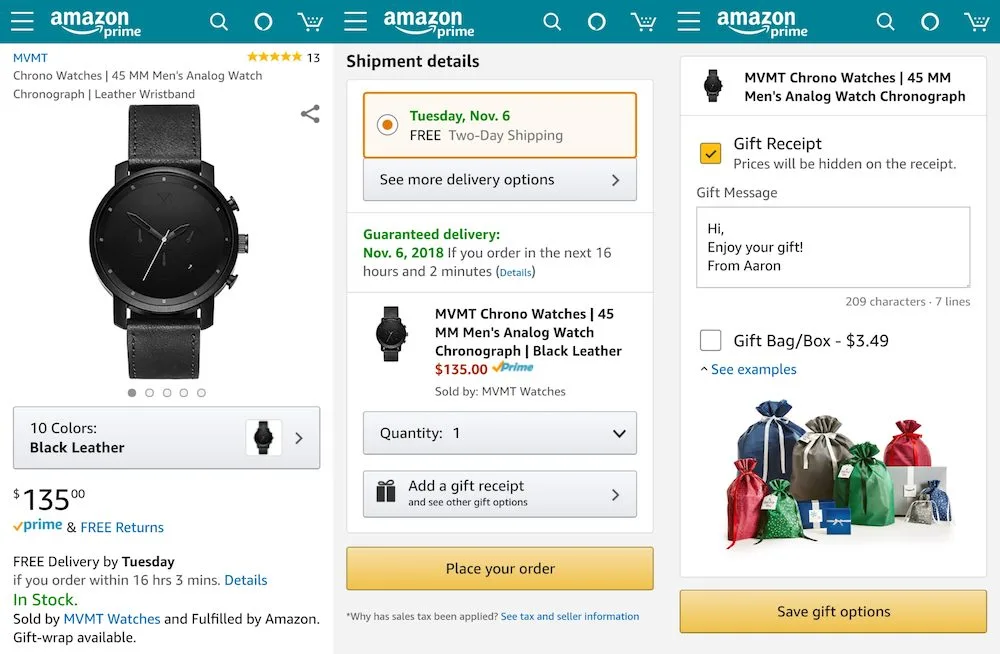 Most businesses can't offer gift wrapping throughout the year. But they can use it during the holiday season when most people would be willing to pay for wrapping. 
Despite the costs, you can always make it work in your favor. You can set a minimum cart value for customers before they can avail free gift wrapping.
Look how this website has done it: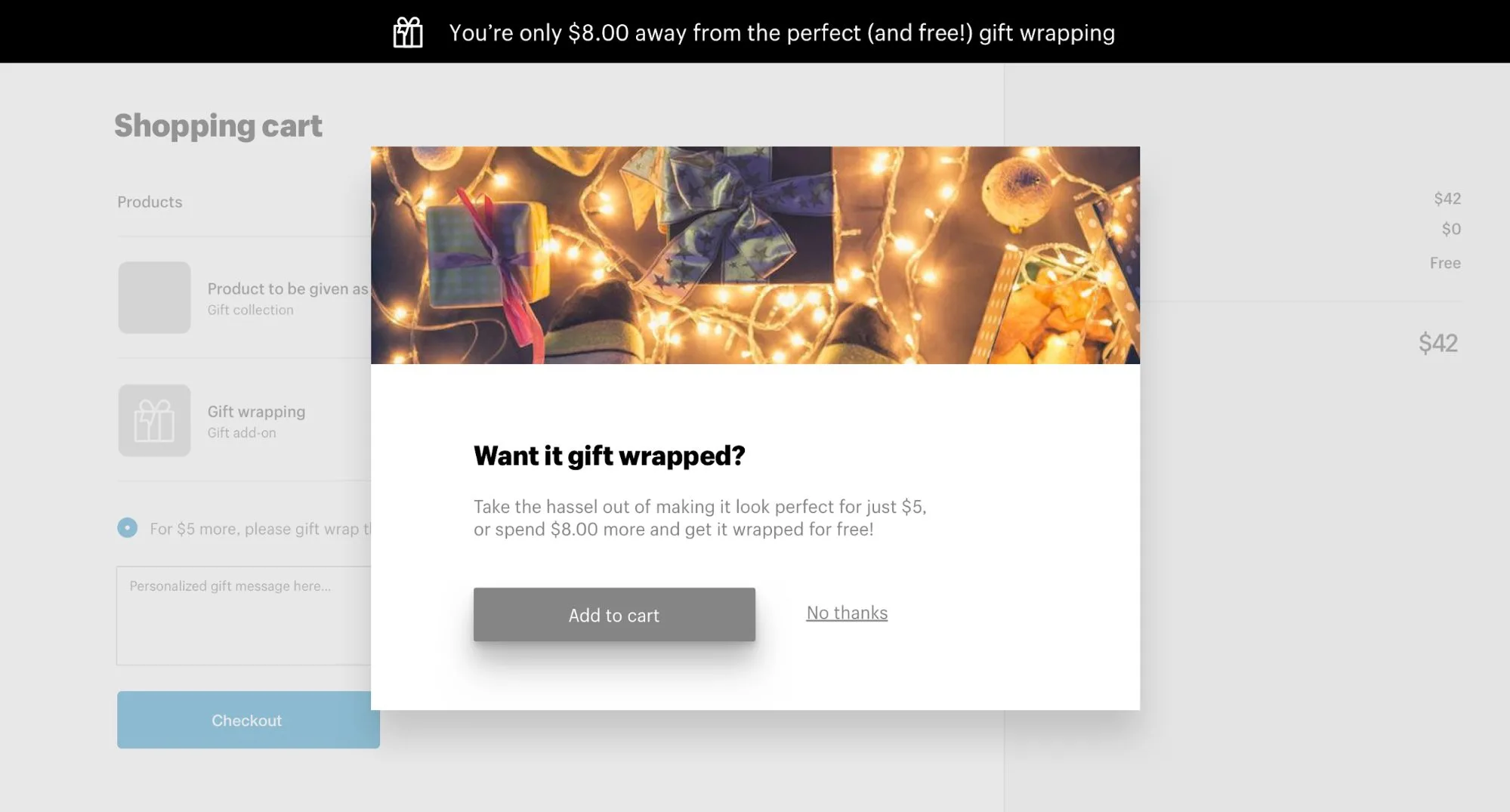 Nordstrom takes it a step further. They offer a gift box, tissue paper, ribbon, and a tag in their 'Gift Kit' worth $2. No gift wrapping is offered. The other option offers gift wrapping but is chargeable.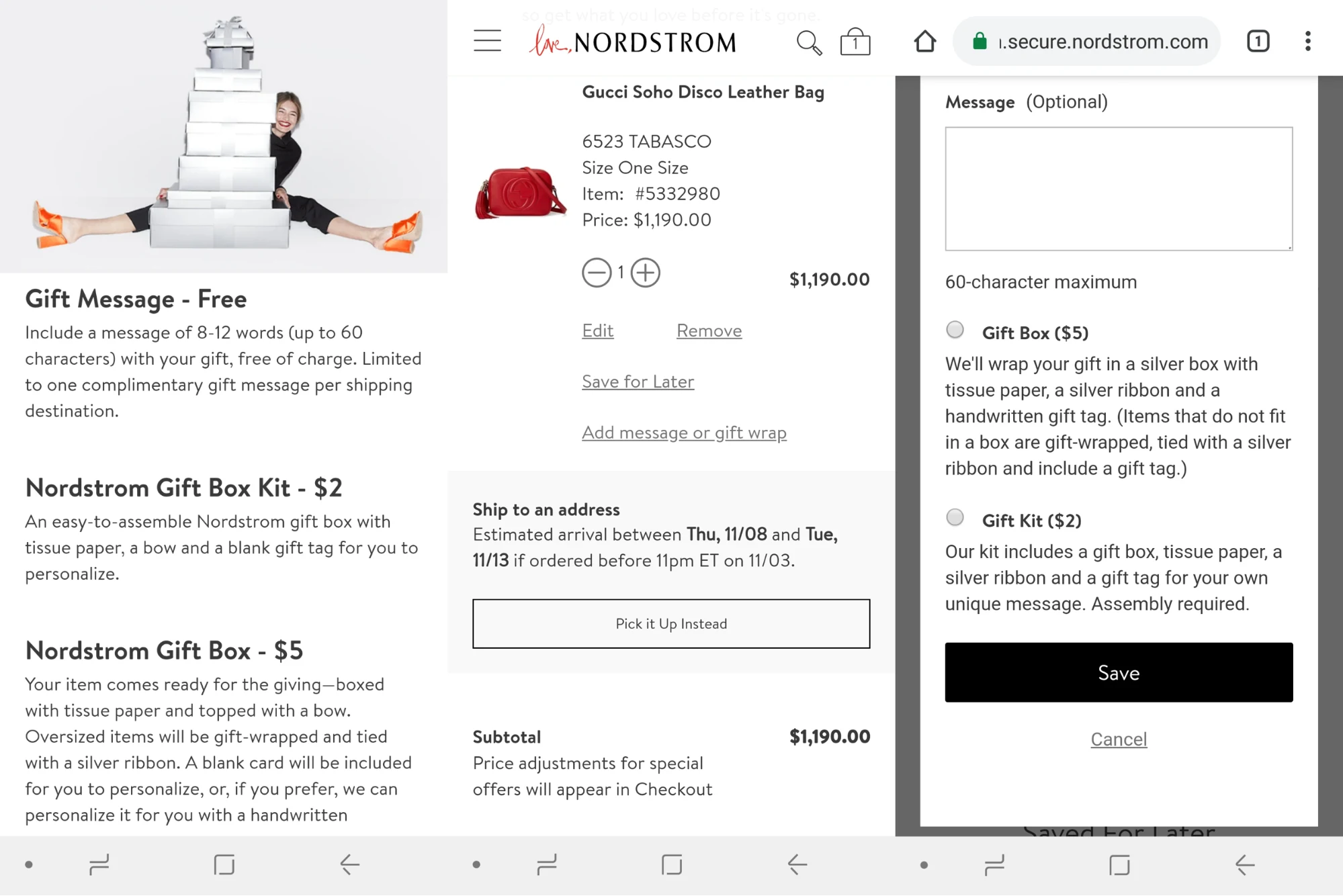 19. Rethink your return policy
You buy a product from an e-commerce site and it's faulty.
You want to return it but you have to pay extra to do so.
That's no fun! You will probably never return to the website again.
You can't expect a customer to return to your site after having a similar experience.  
If you don't offer an easy way to return purchases or refund money, they won't come back. 
55% of shoppers don't shop with eCommerce businesses that don't offer flexible return policies. 
For a first-time buyer, it's trickier. They don't know you, they don't trust you, and they're hesitant to buy from you.
Offering a solid return policy could be the only way they'll take notice of your website. It might slump your conversion at first, but it will turn a visitor into a lifelong customer.
There could be times when your customer is not fully satisfied with a product they bought on your website. Having a hassle-free return policy will allow them to return the product and order something else in return.
Lulelemon hits out of the park with this example. They mention 'Free Shipping + Free Returns' prominently on their website that makes it easy for a first-time shopper to make a purchase.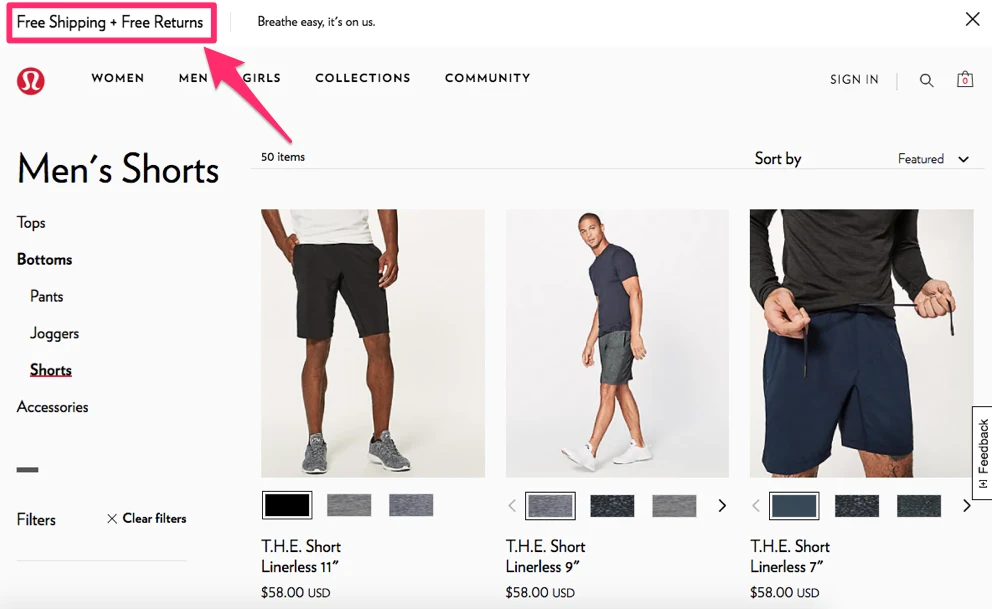 20. Steer clear of hidden fees
Customers don't like surprises at the checkout page other than discounts. They like to know the costs upfront including the subtotal, applicable taxes, surcharges, delivery cost, and the final cart value. 
If you include a couple of fees right before the checkout, customers will drop off, causing a decline in conversions.
You need to be transparent to customers about the breakdown of costs early in the checkout process. 
Nike is a good example here. They show the entire breakdown at an early stage when a customer is filling out their shipping details: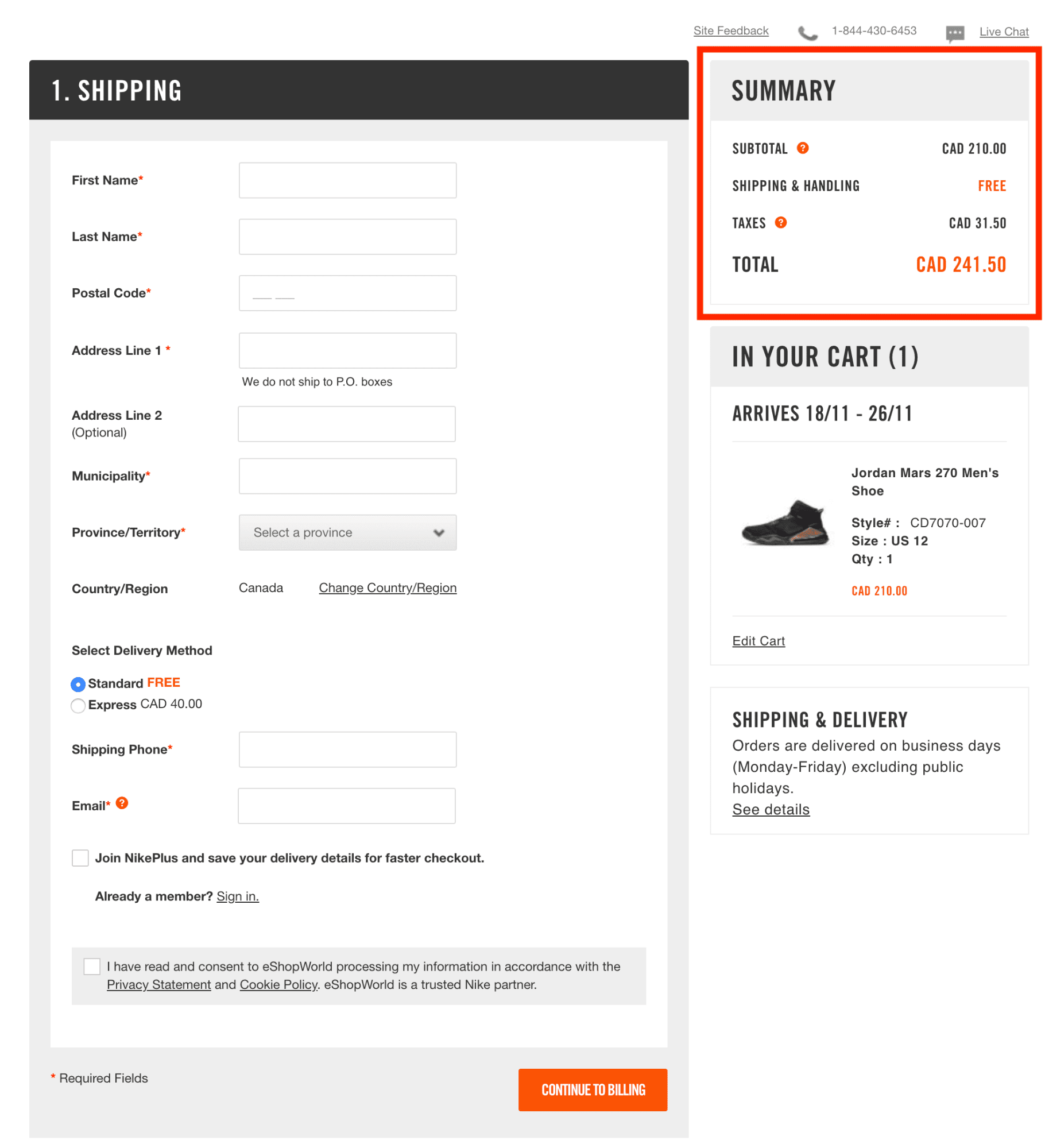 21. Offer multiple payment options
You can't afford customers to leave the website because you don't offer the payment method they prefer. That's just silly. 
As per a study, 56% of people believe a website should provide a variety of payment methods during checkout: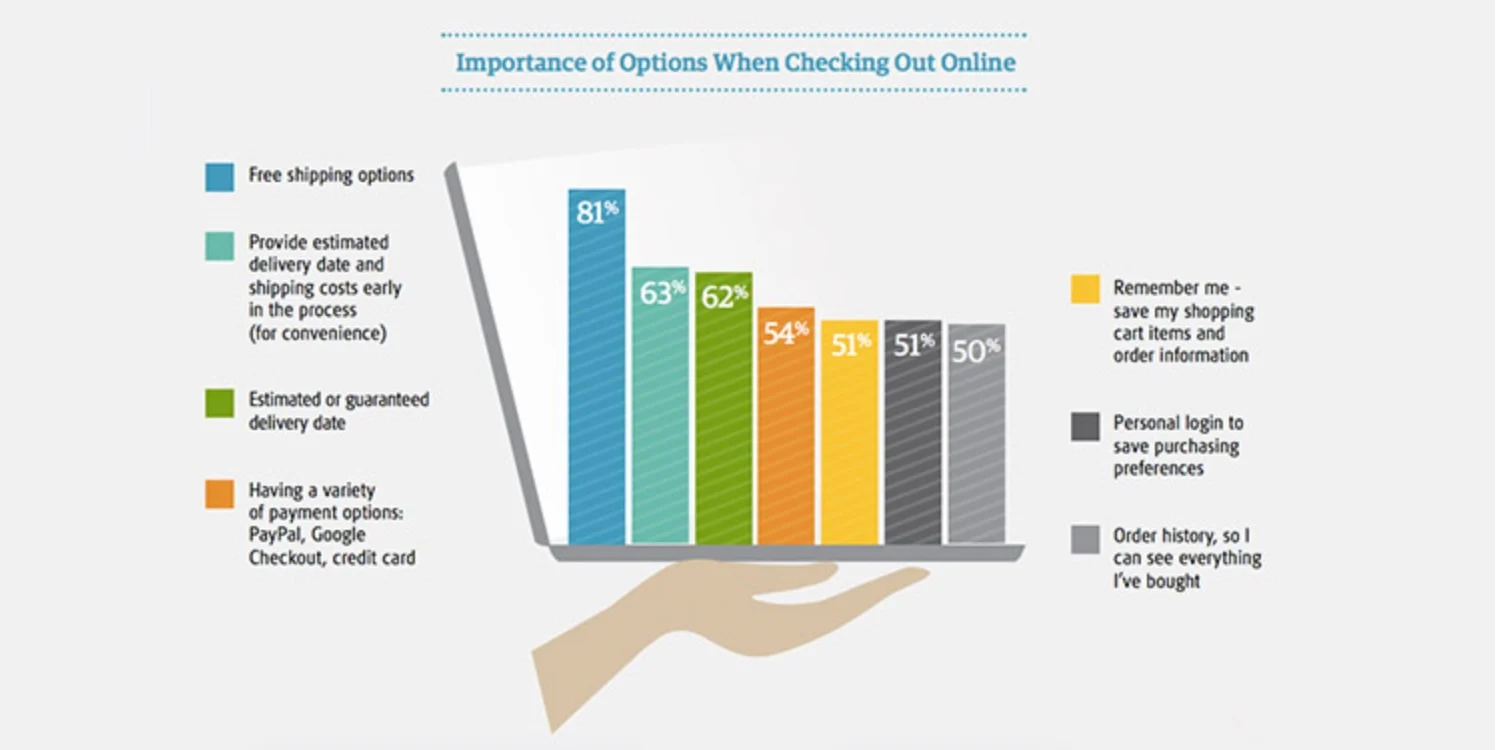 Of course, we understand that some payment options may be beneficial for you compared to others.
It's possible certain credit cards charge a higher transaction fee, hence, you want to avoid them altogether.
But you need to understand your customers' preferences first. If a credit card offers them reward points or airline miles, they'd want to use it every time they make a purchase online.
Giving them an option to do so would mean they won't migrate to your competitors' site. And you'd want to make sure of that every time. Don't you?
Visa and MasterCard are no longer the only options there. Customers want to make a payment through Paypal, UPI, and Apple Pay because it offers them convenience (and maybe some cashback or reward points?). 
Here's a good example of a website that offers a number of payment options on the checkout page: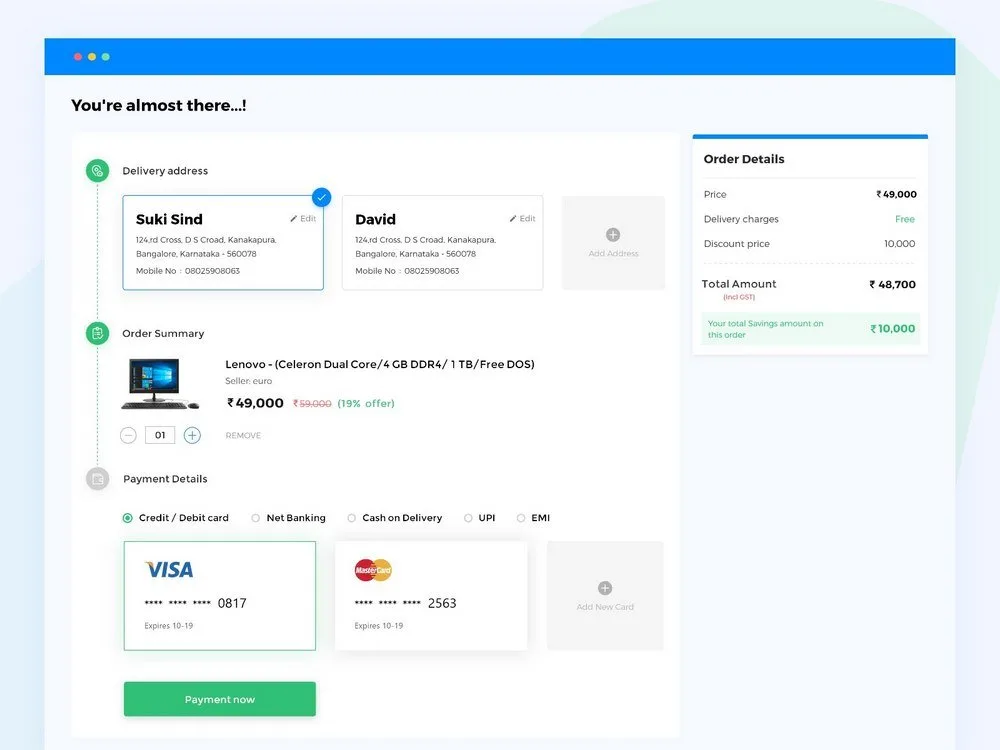 It goes one step ahead and auto-saves the payment details so the customer can make the payment next time by tapping the option.
If you want to skyrocket your website checkouts, giving your customers the flexibility to pay as they want, can help you get there.
22. Provide a guaranteed or estimated delivery date
You want to provide instant gratification to customers every single time.
Providing an estimated or guaranteed delivery date will tell them when they can expect the order, fulfilling their need to know.
Take a leaf out of Amazon's rulebook. They tell you when you can expect the order if you decide to buy a product in a stipulated time frame.


23. Let customers set up notification alerts
Sometimes a customer wants to buy an item but it's out of stock.
Rather than letting the customer go to the competitors' website, give them an option to set up notification alerts – by email, text, or any other preferred mode – which will notify them once the item is available.
Focus on your retargeting strategies to get them back to the website once their product is back in stock. This will increase conversions even though it may not be immediate.
Check out this example below: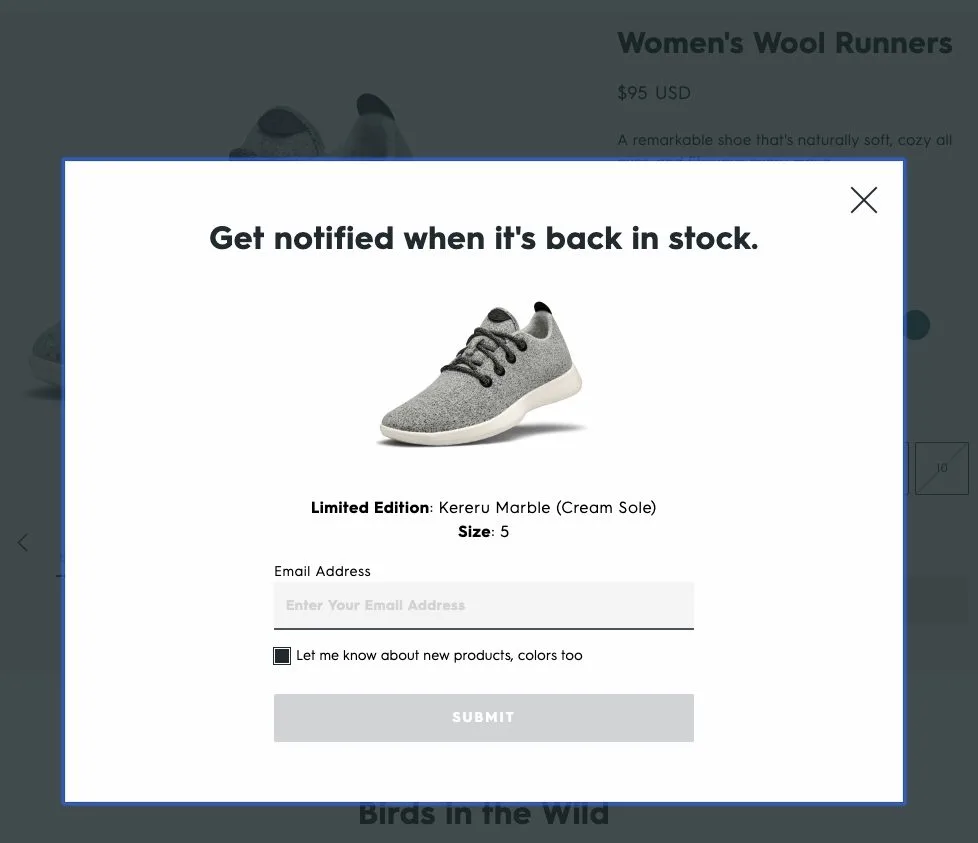 Customers can enter their email id to set up an alert to know when the product will be back in stock.
24. Add trust elements throughout the checkout process
Customers are placing their trust in ordering from your website. You need to tell them that your website is secure and their money is safe. 
The first thing you need to do is check if your site has an SSL certificate. 
Look at your website's URL. if your site has 'HTTPS' before the domain name, you have nothing to worry about. But if your site reflects 'HTTP', you need to set up an SSL to make your website secure.
Macy's website is secure and this is how it looks like: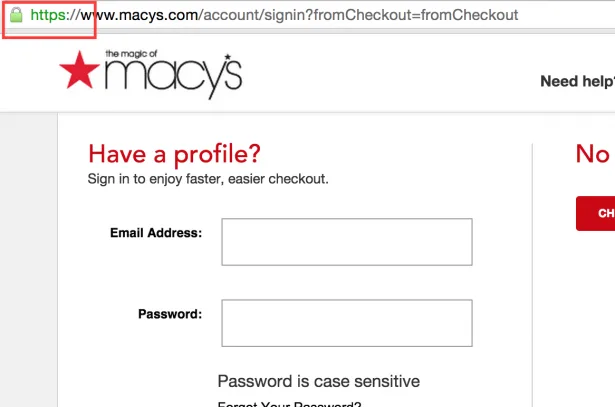 The second thing that you want to make sure of is to tell customers their payment is secure. 
Adding security seals on the checkout page will boost their trust and give them the confidence to go through the process.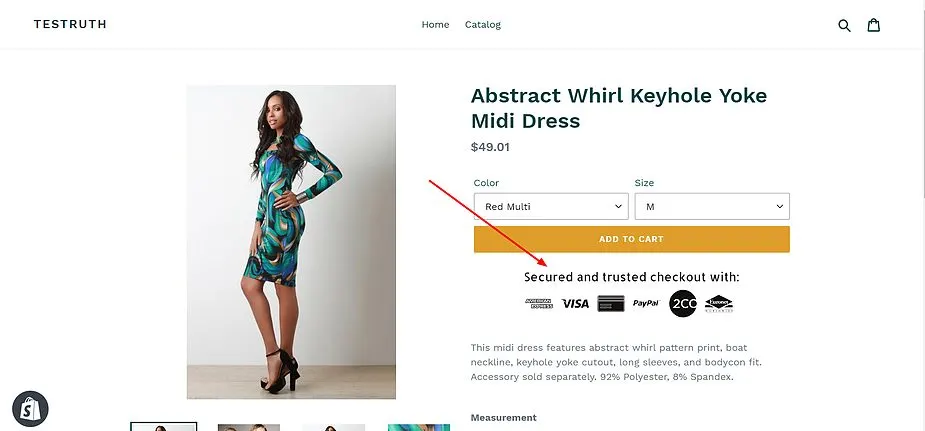 You also want to make sure to include the badges on the website and not just on the checkout page.
If people don't feel secure after visiting your website, there are fewer chances they'll make it further in the process. 
From the homepage to product pages and the checkout page, customers should feel secure at every step before they decide to place an order.
Trust seals like McAfee, Norton, and e-trust badges signify a checkout process is secure and can be trusted.
Spectrum Audio is a good example of how eCommerce stores should place trust seals at every step in the buyer's journey. Look at their product page and see how they've situated trust badges below the product details: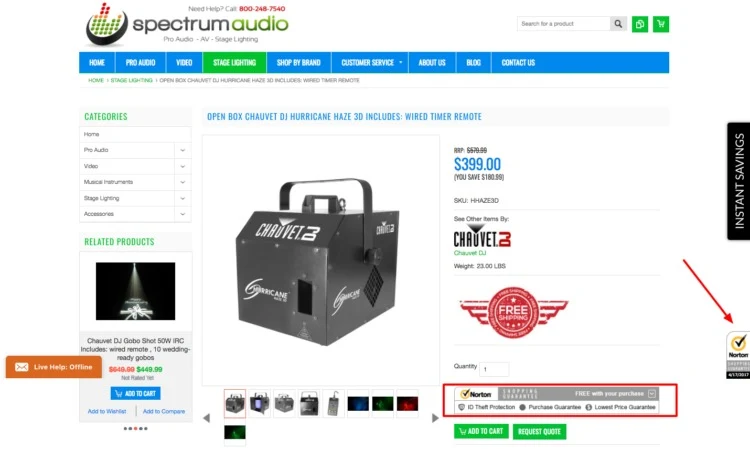 The cart page is exemplary in placing the seals without disturbing the minimalistic, clean layout of the page: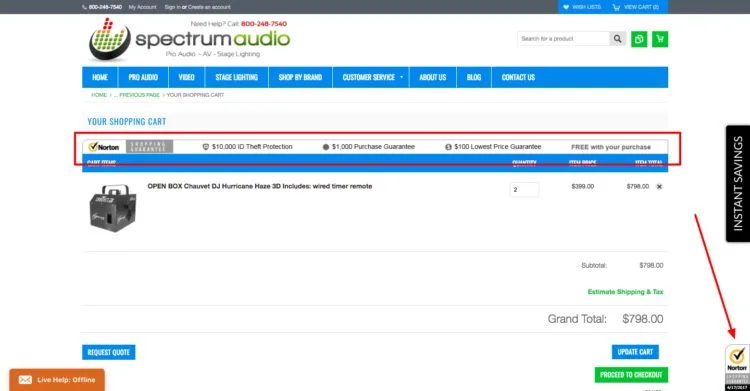 Their checkout page includes additional security assurances other than trust seals so a customer can reach a decision faster: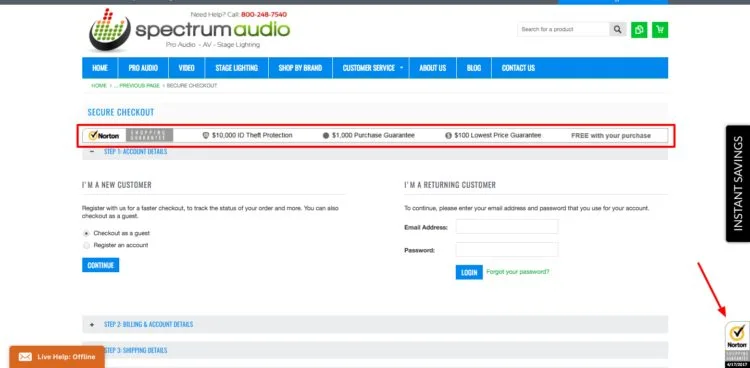 25. Look into your privacy policy
Customers want to feel safe at every step on the website before they decide to place an order. Having a privacy policy that customers can easily locate on the website can make all the difference.
A privacy policy tells a customer what information is gathered about them, how is it going to be stored, and under what circumstances it'll be used.
Making sure that a customer is easily able to navigate the policy without going through multiple pages is important. Most websites include a text link of the policy in the footer section of the website along with other links.
Take a look at how this website has done it. Most websites prefer to do it this way. This doesn't disturb the website's sanctity while making sure all information is covered:


Another way to do it is by including the privacy policy when you ask customers their email address, phone number, or any other personal information.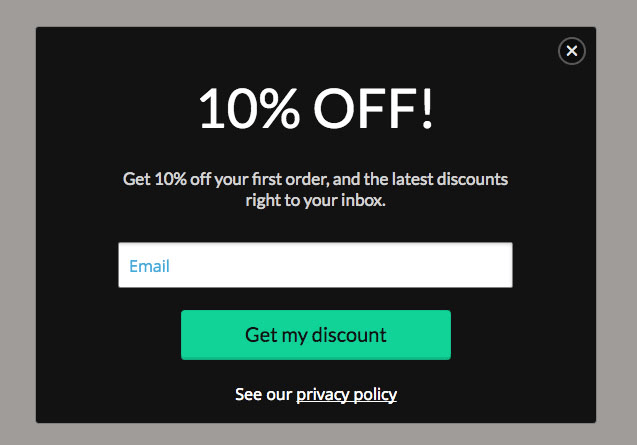 You can bundle this information with discounts and promo codes in the example above to multiply customers' trust. 
If you're looking to include the policy on the checkout page, look into this example of Walmart: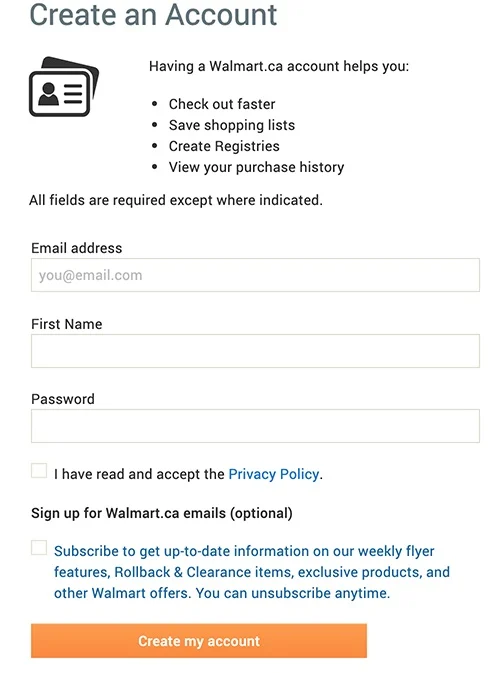 Creating a privacy policy is not an easy task. But remember, it's the only way to minimize the risk of penalties from customers in case of any disputes. Sit with a lawyer and bulletproof your privacy policy. This will save you headaches in the future.
26. Answer FAQs
No matter what security assurances you provide to the customers, they will never fully trust you. Including FAQs on the page is just another way to reduce their anxiety and make them feel confident about purchasing from your website.
What should you include in FAQs?
Answer questions directly related to the product, shipping, privacy policy, or anything else that might be important to your customer.
See this example on the checkout page of a website: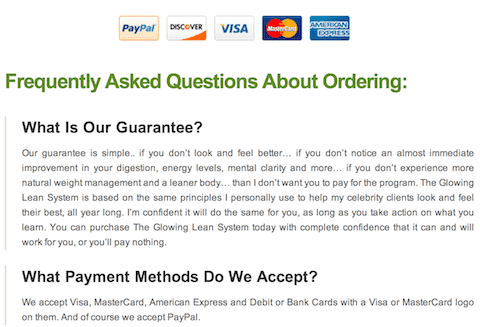 27. Provide a live chat option
Customers want immediate answers to their concerns. Live chat options can be a great addition for a high-converting eCommerce homepage. But having a live chat option on the checkout page is also a great value-add. This can help them get instant responses to their queries. 
In fact, a whopping 63% of people said they are likely to revisit a website that offers live chat support as opposed to those which don't.
Many businesses run a live chat support that barely sees results. This is because their chat systems are dull and robotic. Live chats work on personalization – if there is someone creating customized responses for customers' queries.
The advantage? Better personalization that furthers conversions. 
Look how OptinMonster situates their live chat feature: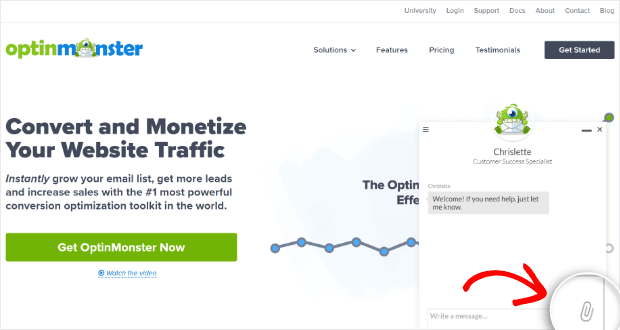 Hubspot is another example of a brand leveraging live chat successfully. They get to the point straight – 'Want to be really good in marketing in 2020?'. You tell us.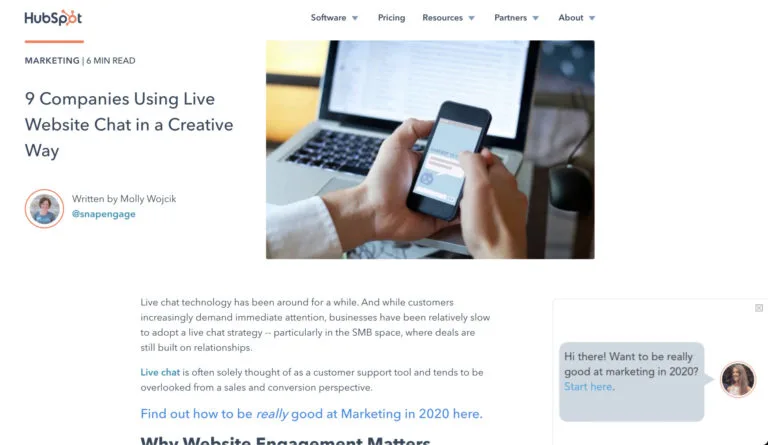 Never Get Enough of Testing
You're now aware of all the strategies to improve your checkout flow. But how do you know what performs and what doesn't?
Enter A/B testing. 
If you've never run A/B testing, don't fret. It's pretty simple.
You start with identifying one element on the page that you want to test. Say, between 'Buy Now' and 'Order Now', you want to understand which CTA performs better.
Once you run the test, 50% of the customers will see 'Buy Now', while others will look at 'Order Now'. Now, compare the conversion rates between the two versions to understand which one performed better.
Once you have conclusive results, go ahead with implementing the changes and move on to test other elements, one by one. 
One Last Word
Your eCommerce checkout flow can become a solid reason for either lost customers or skyrocketing conversions.
Of course, you'd want it to be the latter.
Work from reverse i.e. optimizing the checkout flow to get the most bang for your buck. Make the checkout breezy for the customers and the conversions will soar in no time.
0